If you or a loved one has been hurt in an auto accident, the auto accident lawyers at CHASENBOSCOLO are here to help. Car crashes rarely end well, resulting in vehicle damage, injuries, and mounting medical bills. Some victims may never walk again, while others may never return to their job due to reduced mobility. The most serious auto accidents are fatal. Victims and their families are often left holding the bag, feeling as if they have little choice but to settle directly with the insurer. With the right Virginia car accident lawyer in your corner, you could recover the compensation you need to rebuild your life.
CHASENBOSCOLO proudly serves injury victims in the Virginia, Maryland, and Washington, D.C., areas. Since 1986, we've worked with thousands of auto accident victims with the mindset that putting people first should mean more than money. Our community-minded approach to litigating accident claims has helped our firm plant deep roots in the states we serve.
Don't let an insurer bully you into taking less than your accident is worth. CHASENBOSCOLO offers the No Fee Guarantee®. That means you pay no attorney's fees or other legal expenses unless you receive a monetary award. Call us at (703) 538-1138 or contact us online to schedule your free consultation, and let's put your needs before the insurer.
What Advice Would You Give Someone Who Has Just Been Injured In An Automobile Accident?
Do I Need A Virginia Auto Accident Lawyer?
While you may be certain that another driver was at fault for your accident, don't expect their insurance company to admit it as much. An insurer wants to do whatever it can to minimize the amount it pays you to resolve your claim. An insurance company will attempt to do this by assigning a majority of the blame for the accident to you. A representative might contact you and ask you to provide a recorded statement about your accident. Beware, however. Agents may ask questions specifically designed to elicit damaging responses from accident victims.
Alternatively, an insurance company might offer you a lump sum settlement and then pressure you into accepting it. Expect them to say it is more money than you would recover with the help of an attorney. In truth, these settlement offers are almost always lowball offers, far less than what victims are entitled to.
You should not speak to an insurance company until you have legal representation. An experienced Virginia auto accident attorney can handle such conversations on your behalf. They will immediately begin negotiating for a fair and full settlement of your case.
Why Choose CHASENBOSCOLO To Handle My Case?
CHASENBOSCOLO was founded in 1986 with the simple philosophy of taking care of the client being our top priority. Our firm has recovered hundreds of millions of dollars for thousands of clients.
Barry M. Chasen has more than three decades of experience. He has received an AV Preeminent rating from Martindale-Hubbell, a peer rating denoting the highest level of professional excellence. Benjamin T. Boscolo joined the firm in 1987 and is licensed in Maryland and Washington, D.C. He is a member of the District of Columbia Bar Association, Prince George's County Bar Association, and American Association for Justice.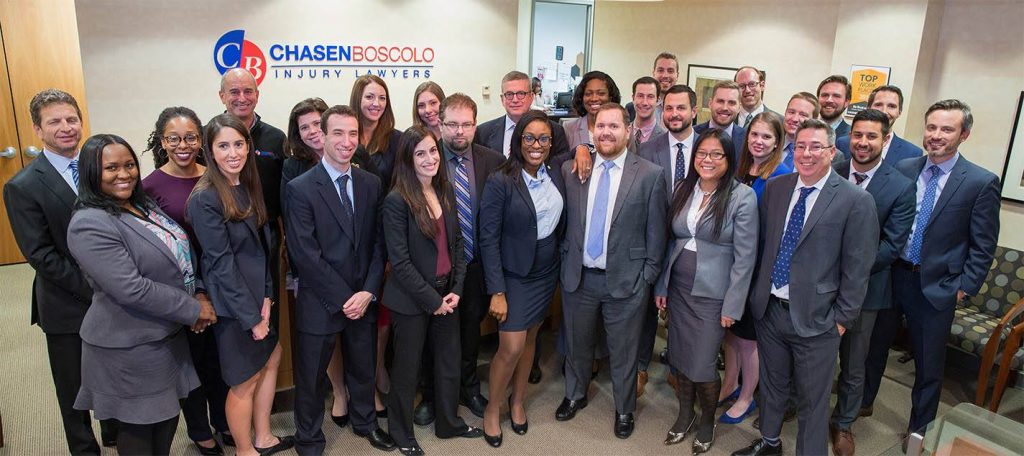 We will negotiate for a settlement covering all your past, present, and future expenses. When an insurance company refuses to provide an appropriate amount, our firm will not hesitate to file a lawsuit.
Types Of Virginia Auto Accident Cases We Handle
No two car crashes are the same. Every single accident involves its unique factors and set of circumstances.
Some of the most common causes of car accidents in Virginia include, but are not limited to:
What injuries a victim can suffer also depends on certain factors. These include the speeds of the vehicles involved and the points of impact. Often, people suffer debilitating injuries that require extensive medical care and keep them from working.
Insurance companies often are unwilling to pay, even if you suffered serious injuries. CHASENBOSCOLO has experience recovering maximum compensation for such injuries as:
Many accidents can cause people to sustain injuries that ultimately prove to be fatal. When a person dies in a motor vehicle crash, their family members may be able to file a wrongful death lawsuit against the negligent parties.
What Should I Do After A Car Accident?
Taking certain steps after a car accident can improve your chances of recovering and holding the other driver liable. Here's how CHASENBOSCOLO suggests victims react after their accident:
If you're not hurt, check on the welfare of any passengers. Exit the vehicle if doing so doesn't cause new injuries or further discomfort, and check on other driver(s) to make sure they're not trapped. Do not remove other passengers unless their life is in danger.
Take as many photos as possible. Use a video feature if your phone has enough space for lengthy video clips.
Call the police. If you report injuries, they should dispatch an ambulance and fire truck.
While waiting for law enforcement, get as much information as possible from the other driver and any witnesses. If the crash involves a commercial vehicle, check its trailer or side door. You're looking for the Department of Transportation number, the trailer number, and the company name.
If an ambulance arrives before law enforcement, seek immediate treatment. Answer health and condition questions that the emergency medical technicians ask.
If law enforcement arrives first, stay by your vehicle and answer all questions completely and truthfully. Do not volunteer extra information, but stick to the basics.
Phone your insurer to report the accident. Let the representative know that the police filed a report. Avoid going into great detail but offer facts and vehicle information (and nothing more unless required by law).
Go to the hospital so a medical professional can examine you.
Call CHASENBOSCOLO. From there, they'll guide you through the next steps.
Continue receiving medical care to help speed up your recovery. Provided the medical care relates to your accident, we may be able to recover the cost of your bills.
Some of the steps listed above may be out of order depending on your condition when the medics arrive. If you're hurt, you may be unable to give a statement immediately.
How Compensation Works In Car Accident Claims
The more evidence our firm collects, the greater your chance of settling. As those chances increase, so will your settlement offer. Therefore, we calculate compensation based on the facts surrounding your case, along with the following:
The amount of work you've missed and are likely to miss
The combined total of all medical expenses related to your accident
Documented proof of pain and suffering
Repair estimates or full replacement value of the vehicle
The sum of all personal property damages
Once we collect this information and enough evidence exists to move forward, we'll file an initial complaint. This begins the prelitigation settlement phase. If the insurance company won't offer a fair settlement, we'll take your case to court.
A Complete Guide on What to Do When You Get in a Car Accident
Auto Accident FAQs
Victims may have questions about their auto accident. Some common questions include:
How Does Contributory Negligence Work?
If your accident was partially due to your actions, some states will reduce your final settlement by the percentage of fault you have or eliminate your claim. Contributory negligence laws in Washington, D.C., Maryland, and Virginia mean victims who are even 1 percent at fault cannot recover compensation. This is why it is so critical that you work with an experienced Virginia auto accident lawyer. They know how to assemble the facts to show you are not to blame.
How Long Do I Have To File A Car Accident Claim?
Virginia Code § 8.01-243.A establishes a statute of limitations of two years from the date of an accident to bring legal action for injuries arising from a car accident. The statute of limitations is also two years for a wrongful death claim, and the limitations period begins on the date of a person's death. Moreover, a civil action relating to property damage has a five-year statute of limitations under Virginia Code § 8.01-243.E.
Am I Guaranteed Compensation For My Accident?
While we'd love to promise that every accident claim will end with a favorable settlement, we can't promise the outcome of any case. Each auto accident is unique, and we must approach it as such. We work hard to settle every case we get, but the reality is that nothing in personal injury law is guaranteed.
What If a Ride-Sharing Vehicle Hit Me?
Companies like Uber and Lyft have their drivers undergo criminal background checks, but they do not conduct driving tests. If a distracted, intoxicated, or aggressive ride-sharing vehicle driver hits you, we must look at the driver's insurer. We will also explore the liability bond that becomes active when the driver has passengers.
How Can I Prove Who Was At Fault?
Proving fault in car accident cases can be difficult and often requires evidence that the other driver violated traffic laws. Some violations may be obvious. These include running a red light, following too closely, or failing to yield or stop at a stop sign. Others may require an investigation. After the collision, you should speak to any witnesses and get their names and phone numbers. What they say can be useful when building your case and proving who was responsible for the crash. You also should request a copy of your police report, as this may contain more information about the cause of the crash.
Should I See A Doctor After The Crash?
Yes. Even at low speeds, car accidents involve large amounts of force. Much of that force transfers to the driver and passengers inside the vehicle. Seeing a doctor should be your priority after a car accident. This is true even if you don't think you've been seriously injured, as you may have internal injuries or an injury that may take days or weeks to show up.
How Can A Lawyer Help Me After A Car Accident?
At CHASENBOSCOLO, we know how a car crash can change your life. You may be injured, disabled, unable to work, and needing expensive medical treatments. Our Virginia auto accident lawyers help people move on with their lives in these situations. When you call us, we'll do everything possible to get you the compensation you deserve. Our Team has the resources and the experience to handle every aspect of your claim while you focus on getting better.
How Much Does It Cost To Get A Lawyer?
Many people hesitate to call an attorney after a car accident because of the high representation costs. But at CHASENBOSCOLO, you don't ever have to worry about being able to afford our representation. Our Virginia auto accident lawyers use the No Fee Guarantee®, meaning you don't have to pay us any attorney's fees unless you get money for your crash.
Will I Have To Go To Court?
Whether or not you have to appear in court depends on the cooperation of insurance companies involved with your case. Our Maryland car accident attorneys can often use the evidence we collect during our accident investigations to help negotiate fair settlements without filing lawsuits. But when insurance companies refuse to play fair, we're not afraid to take them to court to help ensure our clients are fairly compensated.
How Much Is My Car Accident Case Worth?
The unique ways the accident affected your life determine the value of your claim, such as:
Costs of your future medical care
How your accident happened
The length of your treatment
The severity of your injuries
Transportation costs to and from the treatment
What If An Attorney Already Told Me I Don't Have A Case?
Seek a second opinion if another attorney turns you down. Like doctors or professors, attorneys can have different opinions based on the same facts. If another attorney has reviewed your case and said they cannot help you, contact CHASENBOSCOLO today. We know the law in Maryland, Virginia, and Washington, D.C., and our 24/7 legal staff can speak with you anytime.
How Long Will My Case Take?
How long it takes to resolve your car accident case depends on many factors, including:
The complexity of your accident investigation. A rear-end crash at a stop sign often requires less investigation than a multi-vehicle pileup on a busy interstate. No matter how your accident happened, we'll take the following steps to conduct a thorough investigation of your claim:
Take witness statements of drivers and passengers who were at the scene.
Communicate with all of the insurance companies involved in your accident.
Use photos and other evidence to help determine who caused your crash.
The insurance company's cooperation. Insurance companies may offer a fair settlement as soon as your treatment is complete, or they may hold back a fair offer until you file a lawsuit.
The length of your treatment. To determine the full value of compensation you're owed for your injuries, you must follow a course of treatment until your doctor believes you've reached maximum medical improvement—or to the point where your condition is stable and the future costs of your care can be determined.
Virginia Auto Accident Statistics
The Virginia DMV reported that there were 127,375 total crashes in the state in 2017, causing 843 fatalities and 65,306 injuries. The 127,375 total crashes included 787 fatal crashes, 42,425 injury crashes, and 84,163 property damage-only (PDO) crashes. The 843 fatalities included 608 drivers killed, 121 passengers killed, and 114 pedestrians killed. The 65,306 people injured included 50,045 injured drivers, 13,690 injured passengers, and 1,571 injured pedestrians. Among the injured, there were 7,624 people seriously injured, including 5,693 drivers, 1,484 passengers, and 447 pedestrians.
The 10 Most Common Causes of Car Accidents, and What You Can Do About It
According to the DMV, the number of fatalities in 2017 was a 10.8 percent increase from 2016. There was one crash every 4.1 minutes, 2.3 lives lost per day, and 179 persons injured per day because of traffic accidents that year. Of the 127,375 total crashes, 105,744 (83.0 percent) occurred on non-interstate settings, and 21,631 (17.0 percent) occurred on interstates. Additionally, 92,716 (72.8 percent) were multi-vehicle crashes, and 43,659 (27.2 percent) were single-vehicle crashes.
The DMV reported that 35,522 crashes (13.7 percent) involved drivers following too close, 18,601 (7.8 percent) involved failure to yield, 8,031 (3.4 percent) involved an improper lane change, 6,525 (2.8 percent) involved running a stoplight, and 3,401 (1.4 percent) involved an improper turn.
CHASENBOSCOLO Is A Results-Driven Law Firm
If you've been injured and need legal assistance, let the CHASENBOSCOLO Virginia personal injury lawyers help. Throughout our history, we've helped recover compensation for many injured people, and we want to work hard for you, too. There are never up-front fees, and your initial consultation is free; you won't pay anything unless we get money for you.
We want to earn your trust and will fight in and out of the courtroom to hold the negligent party accountable. Call (703) 538-1138 to schedule a consultation or fill out our contact form.