Virginia Car Accident Laceration Lawyers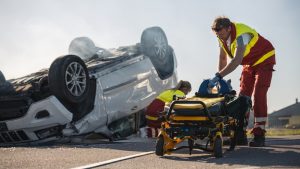 Did you suffer serious lacerations in a motor vehicle accident that someone else caused through their negligence or wrongdoing? If so, you are likely dealing with costly medical bills and other expenses that you never anticipated or planned for. While this can, understandably, be stressful, know that the law allows you to hold the at-fault party accountable if their actions or inaction caused you harm.
Here at CHASENBOSCOLO, we have been helping people just like you across Virginia since 1986. During that time, we have recovered more than $750 in total compensation for our plaintiff clients, and we have handled many cases involving laceration injuries stemming from preventable auto accidents.
Our firm has successfully handled more than 500 jury trials over the past five years alone, and our lawyers have earned consistent recognition as some of the best in the country. To find out how we can help you get the compensation you need for your lacerations and other injuries caused by another party's negligent or reckless actions, you can contact our Virginia car accident lawyers at (703) 538-1138 for a free consultation.
What is a Laceration?
The website eMedicineHealth defines a laceration as "a skin wound with separation of the connective tissue elements." Most commonly called cuts, lacerations are typically produced by a slice from a sharp object or puncture from a hard, blunt object. Lacerations are considered open wounds with jagged or torn edges, but they do not have a loss of tissue such as with abrasions. Still, lacerations can be very serious injuries that require immediate medical treatment.
At some point in our lives, most of us have cut ourselves around the home or workplace, and we may have even had to get stitches. However, lacerations stemming from auto accidents can be much deeper and more serious than accidentally slicing your finger with a paring knife. Most minor cuts can be treated at home with little more than a bandage, however, you should seek immediate medical care if the wound is open, deep, and bleeding profusely. In fact, deep lacerations can puncture arteries, thereby causing significant blood loss and requiring surgery to repair.
Furthermore, lacerations can occur to internal organs, such as the liver and spleen. Also, according to Trauma Survivors Network, these internal lacerations can come from blunt force trauma to the abdomen as well as from so-called puncture wounds that penetrate through the skin.
Auto accidents hold the potential for causing all of these types of lacerations, from deep skin cuts to catastrophic internal organ damage. Virtually all car accidents create wreckage that produces shards of glass, metal, hard plastics, and other sharp materials that can puncture and slice your skin. Not only that, many accidents happen at higher speeds, and the violent forces associated with these crashes can lead to internal injuries of the vehicles' occupants.
In other words, you don't necessarily have to have cuts showing in order to have suffered lacerations in a crash caused by someone else's negligence. If you were rushed to the hospital for treatment of severe lacerations, whether external or internal, after a negligent driver caused your accident, you can contact CHASENBOSCOLO at (703) 538-1138 for assistance getting the help you need to pay for your medical costs, rehabilitation expenses, lost wages, and other damages.
Complications From Lacerations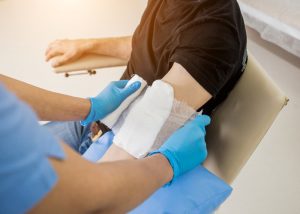 Your initial injury is not the only thing you have to worry about when it comes to lacerations. Even though you received prompt medical treatment, there is still the potential for infection. The skin's surface is home to many different types of bacteria, according to Medical News Today, and these can get into an open wound quickly and cause an infection that can lead to additional medical problems, such as a staph infection or tetanus.
If you notice any of the following, you might have an infection and should seek immediate medical care:
Your wound is swollen and red
Your skin feels warm around the injury
The pain hasn't gotten better and is actually worse
You have a fever and/or swollen lymph nodes
You notice pus or a foul-smelling odor from the wound
Other complications can also arise, and you may notice the wound doesn't seem to be healing or continues to bleed. Whatever the case, do not delay in seeking a full and prompt medical examination.
Why Choose CHASENBOSCOLO?
Staffed with more than 100 of some of the most knowledgeable and compassionate injury advocates in the profession, our firm has become the trusted source for thousands of innocent accident victims and their families throughout Virginia and the greater Washington, D.C., area. Each of our lawyers possesses considerable negotiation and trial experience, and we have obtained more than $750 million in total compensation for individuals and families in need.
From our success, we have earned memberships in the Million Dollar and Multi-Million Dollar Advocates Forums, and our attorneys have received AV-Preeminent and other top peer-review ratings from Martindale-Hubbell, along with many other accolades from members of the legal community. Perhaps more importantly, we have also earned praise from the hundreds of clients we have helped over the years, and we are proud to be able to assist so many with obtaining the rightful compensation they need when they need it the most.
Contact Us Today
If you suffered severe lacerations in a car accident in Virginia, you shouldn't have to suffer silently, especially if someone else's negligence was to blame. CHASENBOSCOLO is here to help you seek the justice and fair compensation that you deserve. Our friendly staff and personable attorneys are ready to assist you anytime day or night, and we promise to treat you like a member of the family each step of the way. Get in touch by phone at (703) 538-1138 or fill in our online contact form and we will contact you.
As part of our No Fee Guarantee, we won't ask for any money up front, and we won't receive any attorney fees unless we obtain compensation on your behalf. We also offer free consultations, so there's absolutely no risk to reach out to us to discuss your case.