If you were hurt in an accident in Bethesda, Maryland, caused by someone else, you are entitled to receive compensation for the injuries and losses you suffered. Since your accident, you have had to pay for your medical treatment, but you have also experienced other disruptions to your life that are more than financial. You may have also suffered ongoing pain along with mental and emotional issues arising from the accident, and you should be compensated for all that you have endured.
The Bethesda personal injury attorneys of CHASENBOSCOLO are here to help you get the maximum amount of compensation you deserve after all areas of your life have been affected by an accident. Serving Maryland since 1986, we have recovered millions of dollars in compensation for our injured clients, and you can turn to us for help getting the compensation and justice you deserve.
You can call us at (301) 220-0050 or complete our contact form to request a free consultation.
Why You Need a Lawyer
Although you can file a claim with the insurance company or even file a lawsuit on your own, you stand a much better chance of getting the compensation you need if you work with a personal injury attorney.
Dealing with insurance companies can be frustrating, and you need to understand how insurance companies work in order to get the most money you can. They often use tactics to attempt to pay people injured in accidents much less than their claim is worth. Unless you have an attorney on your side who knows how to recognize and defeat these tactics, you could accidentally accept a minimal amount of compensation without knowing it.
When you hire an experienced Maryland personal injury attorney from CHASENBOSCOLO, we can investigate your claim for you. We'll obtain all the available evidence to prove that someone else was at fault for your injuries, and we will aggressively negotiate for a full and fair settlement from the at-fault party's insurance company.
If a settlement cannot be reached, and you wish to pursue a lawsuit in court to recover damages, you will have three years in Maryland from the date of your injury to file your lawsuit. If you do not file within that time, your case will probably be dismissed, and you will have lost the opportunity to pursue compensation through the court system. We will make sure that your lawsuit is filed on time and all other deadlines are met.
Cases We Handle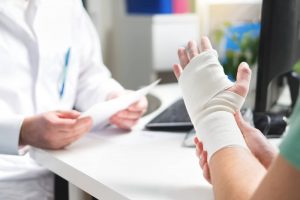 We are a full-service personal injury law firm serving Bethesda, Maryland. CHASENBOSCOLO handles all types of injury claims, including the following:
Regardless of what type of incident caused by someone else led to your injury and suffering, you can turn to the attorneys at CHASENBOSCOLO for help. Our lawyers have successfully handled thousands of injury claims in Maryland and the surrounding areas for more than 35 years, and we have the knowledge, experience, and resources to handle your claim efficiently and effectively.
What Types of Compensation Can You Receive?
If your injury was caused by someone else, you could obtain compensation for financial and other losses that resulted from the accident.
Economic damages are compensation for any money you have spent or lost as a result of your injury, such as the following:
Lost wages
Loss of future earnings
Property damage
Out-of-pocket expenses
You may also recover non-economic damages through your injury claim. This compensation covers intangible losses, such as:
Why Choose Us?
Over the past five years alone, our lawyers have successfully handled more than 500 jury trials, and we have also handled thousands of settlement negotiations with insurance companies on behalf of our clients. We have achieved a winning record of success, recovering more than $750 million for our clients to date, and you can trust that we will fight zealously on your behalf to get you the money you need.
Experienced personal injury attorney Barry Chasen founded our law firm in 1986, and attorneys Benjamin Boscolo and Tom Teodori joined the following year. Since that time, we have added more than 100 attorneys and staff members to our team, and our lawyers have earned consistent awards and honors from members of the legal community for our outstanding professionalism and service.
CHASENBOSCOLO has four law offices across Maryland and Virginia, offering convenient access for clients in Bethesda and other locations. We are here for you, and you can always get in touch with us when you need us.
Each one of our attorneys has extensive legal experience, and we are all passionate about fighting for the rights of our clients. At CHASENBOSCOLO, you can count on us to provide the following when helping you with your injury claim:
We will always put your needs and interests first.
We will treat you like a member of the family.
We will fully prepare your case for trial.
We will fight every step of the way to help you get the best outcome possible.
Furthermore, our law firm offers a No Fee Guarantee® so you don't have to worry about the cost for us to represent you. We offer free consultations, and you will not have to pay any money upfront for us to represent you. We also won't accept a fee if we do not win your case: we will only get paid if we recover compensation for you.
Contact Us
Don't let injuries from an accident that wasn't your fault cause your financial downfall. Call the Bethesda personal injury attorneys of CHASENBOSCOLO today at (301) 220-0050 or fill out our contact form to request a free consultation. Put us to work for you today.