Virginia Auto Accident Spinal Cord Injury Attorneys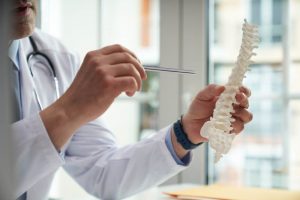 Have you been suffering from a serious spinal cord injury that you sustained in an auto accident? Was the auto accident the other driver's fault? If so, you have the right to pursue compensation for your spinal cord injury.
A spinal cord injury is one of the most serious injuries that auto accident victims sustain. Spinal cord injuries can require invasive surgeries and extensive medical treatment, including physical rehabilitation and therapy. You might have to deal with chronic pain for the rest of your life. Your spinal cord injury may be so severe, that it causes you to be permanently disabled. You may need mobility aids, and modifications may have to be made to your home and vehicle. You may not be able to do the same job you did before the accident or you may not be able to work at all.
You should be able to hold the person who caused you to have to deal with all of these repercussions from your injuries accountable for their actions.
The Virginia car accident attorneys of CHASENBOSCOLO have over three decades of experience helping clients hold wrongdoers accountable. We've helped our clients pursue compensation, and our hard work and skills have helped them fight insurance companies and negligent drivers to receive over half a billion dollars in compensation they deserved. We're available to our clients 24/7 because we believe in putting our clients and their needs first.
For a free consultation, call us right away at (703) 538-1138, or complete our contact form online so that one of our representatives can contact you.
Types of Spinal Cord Injuries
The spine is integral to our body's ability to move. It also safeguards nerves that are responsible for the optimal function of various systems in our bodies. So when you suffer a spinal cord injury, the effects can be devastating.
There are two types of spinal cord injuries that are based on the extent of the damage to part of the spine. Complete spinal cord injuries occur when the spinal cord has been completely severed. Incomplete spinal cord injuries are the result of partial damage to the spinal cord.
Your spinal cord can sustain damage in the four different areas of the spine:
Sacral – the lowest portion of the spine that affects the pelvis, butt, thighs, and hips
Lumbar – the lower portion of the spine that affects the hips and legs
Thoracic – directly below the cervical area, this part of the spine controls the abdominal, back, and chest muscles and nerves
Cervical – the top portion of the spine, that, if damaged, results in paralysis of the entire body either below the neck or the shoulders
Typically, the closer to the brain the damage to the spinal cord is, the more likely the injury will be fatal.
Treating Spinal Cord Injuries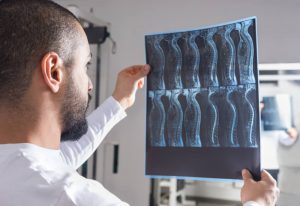 Spinal cord injuries generally require immediate medical attention followed by extensive treatment to aid in any possible healing of the injury. Unfortunately, those who sustain complete spinal cord injuries will likely never recover from them and may be permanently or partially disabled as a result.
When you sustain a spinal cord injury, you'll likely spend a considerable amount of time in the hospital, specifically, in the intensive care unit where you can receive emergency treatment and monitoring from doctors and medical specialists. Once you leave the hospital, your journey won't be over. You may need continued treatment like further surgeries or procedures, physical therapy, rehabilitation, medication, medical devices and aids, and continued doctors' visits for other health issues you may have that are related to the spinal cord injury.
Frequently Asked Questions
You're already dealing with enough stress as you try your best to recover from your spinal cord injury. When you hire our attorneys, we'll carry the weight of seeking compensation for your injuries so you can do your best to just focus on your recovery journey. Still, we understand that you'll have a lot of questions about your claim or case, and we'll be happy to answer all of them. Before our consultation, you can refer to our answers to some of the questions that our new clients have had.
Do I have to file a lawsuit?
You may or may not have to file a lawsuit. It depends on several factors.
Initially, most auto accident victims will file a personal injury claim with the other driver's insurance company. When you file a claim with the insurance company, they will try their best to reduce the amount of money they may have to pay you or to deny your claim so they don't have to pay you anything. As your attorneys, we'll negotiate with them to get you the compensation you're owed.
If those negotiations are unsuccessful, and you aren't satisfied with the compensation the insurance company is offering, we can then file a lawsuit to seek full compensation for your injuries.
What if I was partly responsible for the accident? Can I still be compensated for my injuries?
Even if you were partially responsible for the accident, you could still receive compensation for your spinal cord injury. According to Georgia's modified comparative negligence law, your potential compensation will be reduced by the percentage for which you were responsible for the accident. But if you were more than 49 percent responsible for the accident, you won't be able to recover any compensation for your losses.
Let's say you were 40 percent responsible for the accident and your total compensable losses were $100,000. Your compensation would be reduced by 40 percent, the percentage of your fault, to $60,000. Suppose, however, that you were 50 percent responsible for the accident. You wouldn't be entitled to receive any compensation for your spinal cord injury.
I've missed work due to my injuries. Can I be compensated for that?
Part of the compensation that you may be entitled to for your injuries is the amount of any income or wages that you've lost because you've been unable to return to work due to your injuries and recovery. You can also be compensated for the following:
Costs of medical treatment for your injuries, including future medical treatment costs
Future wage or income loss
Replacement or repair for property damage
Emotional anguish
Pain and suffering
Loss of enjoyment of life
Loss of quality of life
Suffering as a result of permanent disability, scarring, or disfigurement
Your attorney will help you calculate the approximate value of your claim and/or case. We'll calculate the financial costs of your income or wage loss, medical treatment, and property damage. We'll also assess the value of your emotional and mental losses so that we can seek appropriate compensation for your suffering.
Call Us Today
If you sustained a serious spinal cord injury because of another driver's negligence, contact the spinal cord auto accident attorneys of CHASENBOSCOLO today. We may be able to help you get justice for your injuries and the compensation you're owed.
Call us at (703) 538-1138 or contact us online today for a free initial consultation.