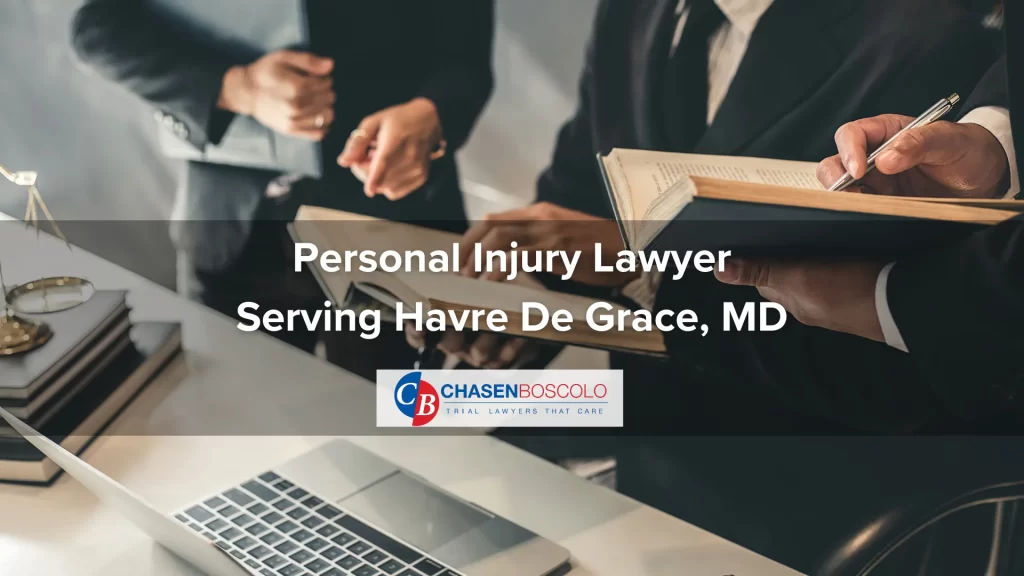 After you've sustained a serious injury due to the fault of a company or another individual, you need an attorney who is both compassionate and qualified. At CHASENBOSCOLO, our personal injury lawyers are both and we can help you hold the person or business that injured you accountable for their actions.
You've faced a tough road. You've been fighting to heal from your injuries while being burdened with the considerable financial costs of your treatment. From exorbitant medical costs to a decline in your income from your inability to work, the financial losses you've incurred can be overwhelming and could send you into debt. That's not to mention the often overlooked, traumatic effects that your injuries and the cause of your injuries have had on your mental and emotional well-being.
The Havre de Grace personal injury lawyers of CHASENBOSCOLO can help you pursue compensation for your accident-related personal and financial losses. Call us today at (301) 220-0050 or contact us by filling out our quick online form. We'll schedule a free case evaluation with one of our highly-experienced personal injury lawyers where we can talk about your legal options and how we may be able to help.
Cases We Handle
At CHASENBOSCOLO, we handle an array of personal injury cases, including:
If you've been injured as a result of any of the above types of accidents, call CHASENBOSCOLO now. We'll review the details of your case, including the injuries you received and how you were injured. We'll let you know whether you have a claim or case that may be eligible for compensation, and we can discuss how we may be able to help you get that money.
Compensation and Maryland's Statute of Limitations
When you're injured due to someone's or a company's negligence, you can incur significant financial costs. The trauma of being injured can also have an emotional and mental impact on you. You can pursue compensation for these losses, which include:
Pain and suffering
Emotional distress
Loss of quality of life
Loss of enjoyment of life
Emotional suffering related to permanent disability, disfigurement, or scarring
Medical expenses, including future medical expenses
Loss of wages or income
Loss of future earning ability
Costs of damage to your property
Families of deceased victims could also pursue compensation for the impact that the loss of their loved one has had on them by filing a wrongful death lawsuit. You could be compensated for:
Cost of medical treatment before the death of your loved one
Funeral costs
Loss of income and benefits earned by your loved one
Emotional pain and suffering
Mental anguish
Loss of society
Loss of protection
Loss of companionship and marital relationship for the spouse of the deceased
Loss of guidance and the parental relationship for the child of the deceased
Loss of relationship with the deceased child for the parents of the deceased
It's important to know that if you have to file a personal injury lawsuit to try to get compensation for your injuries, you'll have to do so within a certain timeframe. The statute of limitations in Maryland is three years for personal injury and wrongful death lawsuits. This means that you have three years from the date you were injured or discovered your injuries to file a personal injury lawsuit against the person or entity responsible for them.
Frequently Asked Questions
Below, you'll find answers to common questions our clients have asked when first meeting with us.
How long will it take for me to be compensated?
A timeline for you to be compensated for your injuries isn't predictable. It's our experience that personal injury claims and cases can be resolved either fairly quickly or could take years to reach an outcome. Several factors could contribute to the amount of time it may take for you to obtain compensation, including whether you have to file an insurance claim first, whether you reach a settlement with the insurance company, and whether you have to file a lawsuit and the pace at which the lawsuit proceeds. Ultimately, the major factor that determines how long it could take for you to be compensated is the success of your claim or lawsuit.
I don't think I can afford an attorney. Can I pursue compensation on my own?
You can pursue compensation for your injuries on your own, but it's not recommended. Personal injury law is complex. While you're already suffering from your injuries or the loss of a loved one, adding the challenge of filing a personal injury claim and/or lawsuit and representing yourself in an arena in which you're inexperienced could be overwhelming and incredibly exhausting. Our personal injury attorneys know personal injury law. We have experience representing clients just like you and are skilled litigators. If your case has to be fought in court, hiring us would be invaluable to you.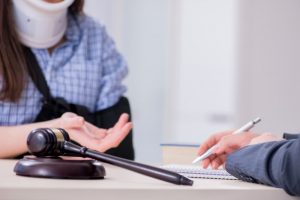 We understand that having to pay to hire an attorney after you've already suffered significant financial losses can seem impossible. We don't want our prospective clients to be held back from obtaining the high-quality legal representation we can offer them because they're worried about money.
So, we offer a No-Fee Guarantee. This is our contingency-fee-based approach to providing our clients with the legal representation they need. You don't have to pay us any upfront fees or other out-of-pocket expenses until we win you compensation for your injuries. If we're unable to help you recover compensation, you won't owe us anything. There's no catch and no strings attached.
Contact CHASENBOSCOLO for a Skilled Personal Injury Lawyer in Havre de Grace
If a person or company has caused you to suffer from serious injuries because of their negligent actions, contact the personal injury lawyers of CHASENBOSCOLO right away.
With more than 35 years of helping injured victims get justice, we can help you seek just compensation for your injuries, too. Call us today at (301) 220-0050 to schedule a free case evaluation.