Serving Bowie, Maryland, and the surrounding areas, CHASENBOSCOLO is one of our area's most successful law firms for individuals and families who have suffered greatly and unnecessarily as the result of someone else's wrongful actions. Established in 1986 by experienced and top-ranked trial advocate Barry Chasen, our law firm has served the residents of Maryland for more than 35 years, and we are proud to have helped so many in our communities when they needed it the most.
Having successfully handled thousands of jury trials and settlement negotiations collectively, our lawyers have the skills and resources necessary to help you with your personal injury or wrongful death claim and increase your chances of getting the results you deserve. Since we began our practice, our lawyers have secured more than $750 million dollars in total compensation for our clients, and our top priority is to take care of you and ensure you get the maximum amount possible for your damages.
We prepare each case we handle as if it were to go to trial so that the insurance companies know we mean business. We are not afraid to fight in court for you, if necessary, and we have a proven record of success at winning all types of personal injury and wrongful death cases in the courtroom. Either way, we are here to advocate on your behalf to help you get the help you need.
If you or a loved one suffered a catastrophic injury or lost their life as the result of an accident caused by a negligent party, you can contact CHASENBOSCOLO at (301) 220-0050 or through our contact page to speak with us at no cost about your injury or loss.
We Handle All Types of Personal Injury Cases
Here at CHASENBOSCOLO, you will find a team of more than 100 compassionate and dedicated legal professionals. With four conveniently locatedoffices across Maryland and the greater D.C. Metro, we are here for you when you need us, and our driving mission is to protect your rights. As a leading full-service personal injury law firm, we handle all types of tortious claims, including all of the following and more:
Regardless the reason for your accident or the cause of your suffering, if it could have been avoided were it not for the negligent, reckless, or unlawful actions of someone else, you are likely entitled to receive compensation.
Why Choose Us?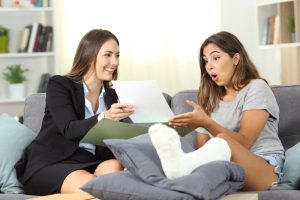 Personal injury claims arising from injury accidents require an experienced professional who understands all areas of the law and can navigate the complex legal process efficiently. All personal injury claims require proof of negligence, so you have to ensure you have obtained all the evidence needed to support your claim.
Moreover, you must also ensure you are submitting the proper forms, requests, documentation, and other paperwork to the insurance companies, the courts, law enforcement and other government agencies, health care providers, and others. Those inexperienced with the law or court procedures will be lost in the maze of regulations and requirements as well as trying to keep up with submission deadlines and other mandatory legal processes.
Our lawyers at CHASENBOSCOLO have extensive experience investigating accidents, gathering evidence, and establishing liability in a variety of cases involving negligence, carelessness, or egregious wrongdoing. You can trust we will fully investigate and analyze your injury claim, and we will do so with the utmost confidence and integrity. You can also rely on us to submit all necessary documentation within prescribed deadlines and follow all policies and procedures to the letter of the law. Our lawyers and associates are consummate professionals who are committed to helping you with all aspects of your personal injury claim from beginning to end.
A common tactic among insurance companies is to offer a low-ball settlement amount to close the claim and move on. You will likely need more than what they will offer, but without an attorney on your side who understands how insurance companies and their lawyers work, you probably won't be very successful at getting more than what they offer, if they offer anything at all.
Our firm's lawyers understand how insurance companies work because we have gone toe-to-toe with so many throughout our history, and we know how to negotiate to get our clients the full amount they are entitled to.
Contact a Bowie, MD Personal Injury Lawyer
Along with the right skills, experience, and resources you need a lawyer on your side who will aggressively advocate for you if you've been injured in an accident caused by negligence. For more than 35 years, CHASENBOSCOLO has been helping people just like you get justice and fair compensation when they've been injured though no fault of their own. We have a proven record of securing successful results for our clients, and you can count on us to fight for your rights inside and outside the courtroom.
Over the years, we have recovered more than $750 million in awards for our clients, and although we can't make any guarantees about how much you will receive, we can promise that we will do all we can to help you get the largest recovery possible.
Our firm offers free consultations as well as our No Fee Guarantee. This means that we will not ask for any fees upfront to represent you, and we will only receive a fee if we win your case. To get started, contact an experienced Bowie personal injury attorney by phone at (301) 220-0050 or online.