Lawyers for Head Injuries from Auto Accidents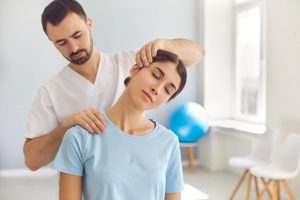 When you're in an auto collision, you can sustain many different serious injuries. Among the most serious are those to the head. Head injuries can be life-threatening and the journey to recover from these injuries can be long and challenging. With some head injuries, a full recovery is impossible, and you may have to deal with permanent health issues because of them.
If you've suffered a serious head injury in an auto accident due to someone else's negligent actions, you have the right to seek compensation from the at-fault party. The Virginia auto accident attorneys of CHASENBOSCOLO can help you get what you are owed. We have decades of experience helping our auto accident victim clients get the compensation they deserve and helping them hold the people who injured them accountable. Call us today at (703) 538-1138 or contact us online to schedule a free and confidential evaluation of your accident claim.
Types of Auto Accident Head Injuries
Many people only think of concussions when they hear about head injuries. While concussions are common auto accident brain injuries, head injuries include damage to not only the brain but to the skull and scalp as well. Some head injuries that auto accident victims may suffer from include:
Concussions – damage is done to the brain as a result of forceful impact to the head, causing the brain to shake within the skull
Hemorrhage – bleeding around or in the tissue of the brain
Subdural hematoma – blood clot underneath the skull and the outer layer of the brain
Epidural hematoma – blood clot underneath the skull but outside of the outer layer of the brain
Intracerebral hematoma – a blood clot on the brain
Skull fracture – the bones of the skull are broken by an incredible amount of force and damage to the brain results
Edema – swelling of the brain that causes it to press against the skull
Diffuse axonal injury – damage to the brain cells
As can be imagined, head injuries are extremely serious. Most of the head injuries listed above can be life-threatening, can cause permanent brain damage, or can be fatal. They require immediate medical attention and may require long-term or life-long treatment. In some cases, an auto accident victim who sustains a severe head injury can become permanently disabled.
Symptoms of a Severe Head Injury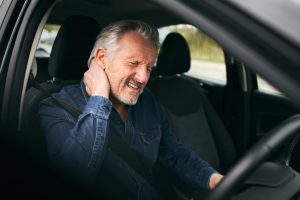 Depending on the severity of your head injury, the symptoms may vary from mild to debilitating and may not even manifest until some time after the accident. If you've been in an auto accident, these are some symptoms to keep an eye out for, not only immediately following your accident but for several days thereafter:
Headache
Seizure
Vertigo
Nausea
Vomiting
Lightheadedness
Confusion
Tinnitus
Unconsciousness
Loss of balance or coordination
Muscle weakness
Disorientation
Eye strain or difficulty visually focusing
Mood changes
Clear nasal or ear discharge
Loss of memory
If you experience any of these symptoms after an auto accident, you should seek immediate medical attention. You may be suffering from a serious head injury.
Compensation for Auto Accident Head Injuries
If someone else caused your auto accident, they may owe you compensation for the head injury you sustained.
You may receive compensation, referred to as damages, for any calculable costs related to your injuries as well as the mental and emotional costs from the crash. You may receive economic damages, which cover your medical expenses, loss of income or wages, loss of future earning ability due to your injuries (especially if your injuries cause you to become permanently disabled), and property damage.
You may also receive non-economic damages for your emotional pain, suffering, and mental anguish, loss of enjoyment of life, a decline in quality of life, and loss of personal relationships. If the at-fault party actions were especially egregious, they may be punished by having to pay you punitive damages.
In D.C., Maryland, and Virginia, however, your ability to recover damages may be barred if you were in any way responsible for your accident. Even if you were only one percent responsible for the accident, you will not be able to obtain compensation.
Why Choose CHASENBOSCOLO?
In 1986, Attorney Barry Chasen began his fight to hold those responsible for wrongdoing accountable on behalf of his clients. Since then, he has built a reputation for being determined and relentless in securing the most compensation possible for his injured clients. CHASENBOSCOLO never shies away from the fight against insurance companies who try to take advantage of the suffering of their clients by not paying them what they are owed. In fact, we craft every client's accident claim with the mindset of going to trial. This ensures we're prepared if it becomes necessary for us to file a lawsuit on your behalf to get you the compensation you deserve.
Operating out of four offices throughout the D.C., Maryland, and Virginia metropolitan area, our team of over 20 highly accomplished and experienced personal injury attorneys have a proven track record of successful negotiations and litigations of personal injury claims and cases. We've secured hundreds of millions of dollars in settlements and awards for thousands of our injured clients. We've received a Preeminent rating and a Distinguished rating for Highest Level of Professional Excellence and a High Level of Professional Achievement, respectively, from Martindale-Hubbell, the gold standard in the legal industry for recognizing attorneys' skills.
We don't believe that the injured victims should be further financially burdened or stressed by having to worry about how they will afford adequate legal representation. This is why we offer our No Fee Guarantee. Your initial consultation is free with CHASENBOSCOLO, and you won't have to pay our highly skilled attorneys unless and until we obtain compensation for you. There's no catch, and no upfront, out-of-pocket fees.
Contact Us Today
If you or a loved one has suffered from a head injury due to an auto accident that was someone else's fault, you may be entitled to significant compensation. You shouldn't have to bear the financial costs of your head injury. The auto accident attorneys of CHASENBOSCOLO have helped auto accident victims who suffered head injuries get the compensation they were owed, and we may be able to help you. For a free initial claim evaluation, call us today at (703) 538-1138 or contact us online.