From the 52-mile long Virginia Capital Trail and the 31-mile long High Bridge Trail to the 128 miles of the Heart of Appalachia route, Virginia is filled with scenic routes to explore on bicycles. In many urban areas of Virginia as well, bikes are becoming a more common way of getting to and from work due to their economic and physical benefits. As ideal as Virginia can be for bicycling, accidents do occur in communities all over the state.
Many of these bike accidents involve motor vehicles, and most are caused by driver negligence. Such incidents can lead to complex legal disputes about liability. That said, you do not have to handle your injury claim alone. If you have suffered serious injuries in a bicycle accident caused by another party's negligence in Virginia, you have the right to obtain experienced legal representation.
CHASENBOSCOLO represents bicycle accident victims all over Virginia. Our firm will fight to make sure that you recover all of the compensation you are entitled to. Call (703) 538-1138 or contact us online today to schedule a completely free consultation.
Do I Need A Bike Accident Lawyer?
Some victims of bicycle crashes are tempted to believe that they do not need an attorney because they were the apparent victim and all they have to do is fill out some simple paperwork. Injury claims are rarely without complications, however, and bike accidents are no different. Many insurance companies representing the negligent parties in these cases will quickly reach out and give you the opportunity to provide a recorded statement about your accident. You should always decline this offer.
A representative for an insurance company is in no way concerned with helping you recover. Their only intention is to get you to unknowingly admit negligence in your crash and damage your claim. Some insurance companies may offer victims lump-sum settlements to resolve their cases, but these offers are usually nowhere near what victims are actually entitled to. A knowledgeable lawyer can deal with the insurers for you and fight for a settlement that will provide the compensation you need and deserve.
Who Can I Sue For My Injuries?
Why Choose CHASENBOSCOLO to Handle My Case?
CHASENBOSCOLO has made clients our top priority since our firm was founded in 1986. Our record of success includes an $800,000 verdict obtained for a client who suffered a knee injury requiring total knee replacement after being struck by a company truck while riding her bike in a crosswalk. Our firm also offers a No Fee Guarantee,® so you pay us nothing unless you receive a monetary award in your case.
Attorneys and managing partners Barry M. Chasen and Benjamin T. Boscolo each have more than 30 years of experience practicing law. Barry M. Chasen has received an AV Preeminent rating from Martindale-Hubbell. Benjamin T. Boscolo is a member of the American Association for Justice, Prince George's County Bar Association, and District of Columbia Bar Association.
The legal team at CHASENBOSCOLO will work tirelessly to help you get a fair and full settlement. If settlement negotiations reach a stalemate, we will not hesitate to try your case in court.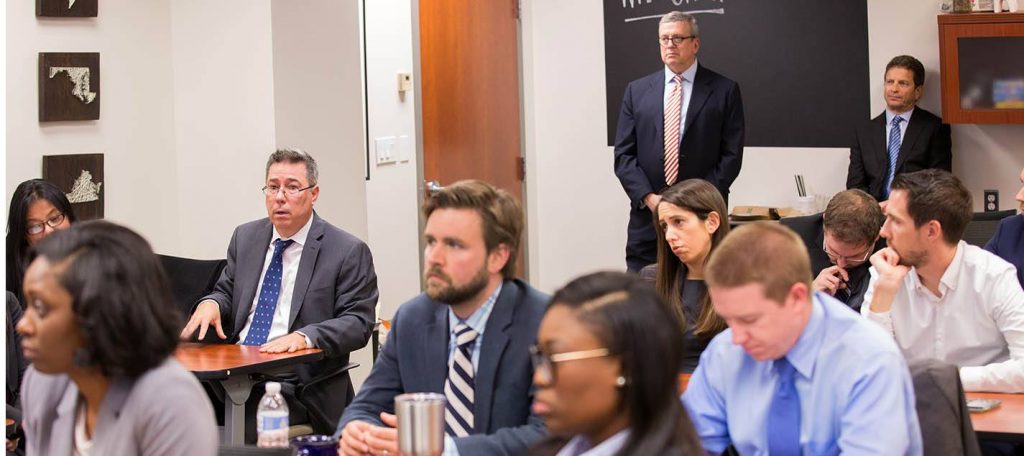 Types of Bike Accident Cases We Handle
There is no state law in Virginia requiring bicyclists to wear helmets, but some communities in the state may have local ordinances. Multiple jurisdictions require bicyclists under 14 years of age to wear helmets. Bicycle helmets can certainly help reduce the chances of a cyclist suffering a serious head injury, but bike riders are generally susceptible to many other kinds of severe injuries as well. The bodies of most bicyclists are left exposed to all kinds of possible harm in accidents.
Bicycle crashes can cause such injuries as:
Road rash
Fractures
Sprains
Muscle strains
Nerve damage
Neck injuries
Internal organ injuries
Traumatic brain injuries (TBIs)
Spinal cord injuries
Paralysis
In some cases, bike accidents may cause fatal injuries. The family members of the deceased may be able to file wrongful death lawsuits against the negligent parties.
When bike crashes involve motor vehicles, some of the most common causes of the accidents include, but are not limited to:
Sideswipe Accidents
Head-On Collisions
Intersection Accidents
Drunk Driving Accidents
Failure to Yield Accidents
Right-Turn or Left-Turn Accidents
Distracted Driving Accidents
Not all bike accidents involve automobiles though. Some crashes are entirely isolated incidents, and these accidents are not necessarily the fault of the person who was operating the bicycle. The manufacturer of a certain bicycle part may be liable if the part was defective. Additionally, faulty repairs could make a maintenance company responsible and a company that rents bikes may be liable for not properly maintaining a bicycle or renting out a bike that was dangerous or defective.
Frequently Asked Questions (FAQs) About Bike Accidents
The answer is unfortunately no. Virginia is one of only five states in the nation that allows defendants in civil cases to assert the affirmative defense of contributory negligence. When a victim's own negligence contributes to their injury, they are prohibited from recovering any damages. Even a bicyclist who is only one percent at fault for their injuries can recover nothing. The effect of contributory negligence underscores the importance of letting a lawyer speak to an insurance company on your behalf.
Under Virginia Code § 8.01-243.A, the statute of limitations to bring an action for injuries arising from a bike accident is two years from the date of the accident. Virginia Code § 8.01-243.E allows a person up to five years to file a civil action relating to property damage in a bike accident. With a wrongful death claim, the statute of limitations is also two years but the limitations period begins on the date of a person's death rather than the date of an accident.
Bike Accident Statistics
According to the 2017 Virginia Traffic Crash Facts from the Virginia Department of Motor Vehicles (DMV), the 13 bicycle fatalities in 2017 represented a 30 percent increase from 2016. The 670 bicycle crashes in Virginia represented 0.5 percent of all traffic crashes. These 670 crashes included 14 fatal crashes, 619 injury crashes, and 37 property damage crashes. The 13 bicyclist fatalities represented 1.5 percent of all traffic crash fatalities, and 132 bicyclists suffered serious injuries.
Driver actions cited in these crashes included 116 instances (17.1 percent) of failure to yield, 59 instances (8.7 percent) in which the driver ran a traffic light or stop sign, 38 instances (5.6 percent) involved left of center non-passing accidents, 19 instances (2.8 percent) involved improper lane changes, and 18 instances (2.7 percent) involved improper passing. Bicyclists had been drinking in 22 of these cases (3.3 percent), 571 of these bicyclists (84.3 percent) were not drinking, and in 84 cases (12.4 percent) this information was not provided or unknown.
The National Highway Traffic Safety Administration (NHTSA) reported that there were 10 bicyclist fatalities in 2016, or 1.3 percent of the total traffic fatalities in the state. According to NHTSA, the 840 bicyclist deaths in 2016 accounted for 2.2 percent of all traffic fatalities that year, and alcohol involvement—either for the motor vehicle operator or the bicyclist—was reported in 35 percent of crashes.
Furthermore, in a 2012 report on bicyclist safety, the Governors Highway Safety Association (GHSA) reported that bicyclist deaths increased by 16 percent in the United States from 2010 to 2012 (i.e. 621 in 2010, 680 in 2011 and, 722 in 2012). In Virginia, there were 12 bicyclist deaths in 2010, six fatalities in 2011, and 11 deaths in 2012.
Contact a Bike Accident Attorney in Virginia
If you or a loved one sustained severe injuries (or even death) in a bike crash in Virginia, it is very important for you to retain legal counsel so you can ensure that the negligent party is held accountable.
CHASENBOSCOLO is committed to helping every client get justice. We are compassionate, knowledgeable lawyers who strive to keep you informed at every step in your case. An experienced attorney from our firm will address any questions or concerns you have about your case.  call us today at (703) 538-1138 or contact us online to take advantage of a free consultation.