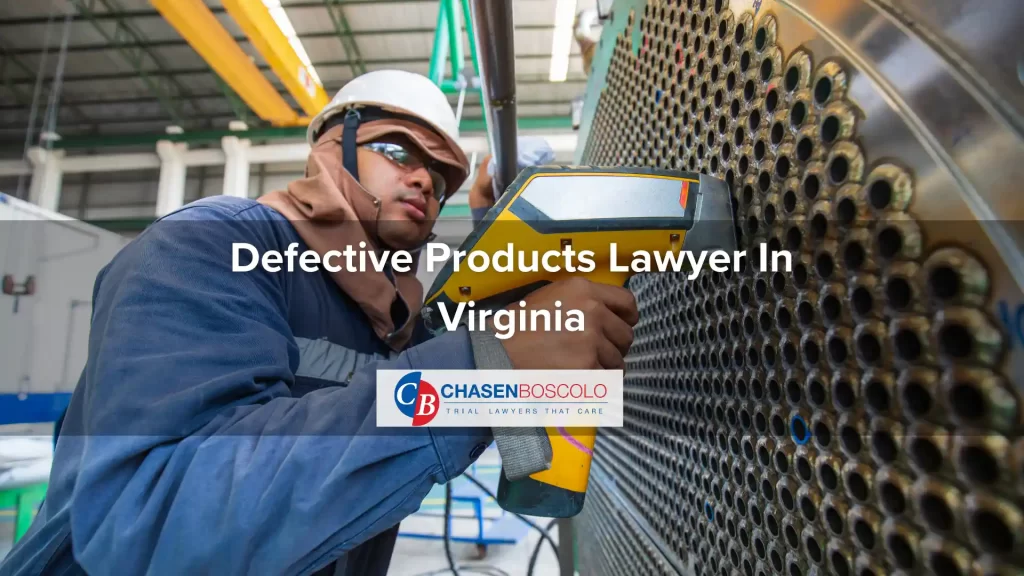 CHASENBOSCOLO fights to protect consumers against harmful products. If you or someone close to you suffered an injury due to a manufacturer, distributor, or retailer's negligence, you could be owed significant compensation.
Any person or company that sells a product needs to ensure that the product will be reasonably safe for consumers to use. If a product is unreasonably dangerous or defective, a consumer can easily suffer serious injuries through its use. Manufacturers are typically liable for injuries that occur as a result of dangerous or defective products. The challenge that many victims face in recovering compensation for their injuries is that the makers of most products often deny liability, and generally attribute a victim's injuries to misuse of the product.
If you or a loved one have suffered injuries resulting from the use of a dangerous or defective product in Virginia, you have the right to seek financial benefits for the harm that has been caused to you. Give yourself the best chance of recovering compensation by retaining legal counsel.
CHASENBOSCOLO puts our clients first. We will work closely with you throughout your case so that all of your questions and concerns are addressed. Call (703) 538-1138 or contact us online today to schedule a free consultation with a Virginia defective products attorney.
ChasenBoscolo – Lawyers That Care
Do I Need A Defective Products Lawyer?
A defective product claim can be extremely challenging for a person to handle on their own. In many cases, an individual who attempts to file a claim with a manufacturer will be informed that they were the one at fault for their accident. In other words, the company will usually deny liability. In certain cases, an insurance company representing the manufacturer may reach out to the victim and offer them a lump-sum settlement. Many people who are unfamiliar with these processes assume that these offers may be the only ones they will receive and quickly accept them.
In truth, the settlement offers made by most insurers are lowball amounts that are nowhere near what victims are entitled to. A knowledgeable attorney will be able to determine the true value of your claim and help you to recover the amount that you are entitled to. An attorney with experience in defective products cases will be able to conduct their own independent investigation to review your accident and collect important evidence. Your lawyer can also determine what parties should be held liable for your injuries.
Why Choose CHASENBOSCOLO to Handle My Case?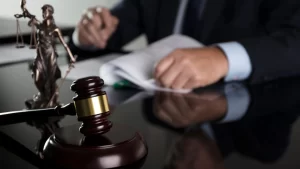 One of the core values of CHASENBOSCOLO is putting our clients' needs first. We consider the people we represent to be like family. We have a team of attorneys and support staff that is available 24 hours a day, seven days a week, to ensure that you will always get a response whenever you reach out to us.
Barry M. Chasen and Benjamin T. Boscolo have both received an AV Preeminent rating from Martindale-Hubbell, a peer rating denoting the highest level of professional excellence. Our managing partners each have over three decades of experience in defending victims of accident injuries. At CHASENBOSCOLO we take pride in compassionately representing our clients and helping them overcome whatever obstacles they might face.
CHASENBOSCOLO believes that our clients should not worry about being able to afford legal representation, which is why we offer our No Fee Guarantee.® We handle all cases on a contingency fee basis, so you pay us nothing unless you receive a monetary award. At CHASENBOSCOLO, our attorneys will do whatever it takes to help you recover from your injuries and move on with your life.
Types of Defective Product Cases We Handle
A defective product claim will usually require proof that a victim's injuries were the result of a product being unsafe when it was purchased. The types of defects involved in these cases can vary, depending on the type of product involved.
In general, many defective product claims involve one of the following:
Design Defect — The manufacturer committed an error in the fundamental design of the product. With this type of defect, all people who purchase the product face the same danger, so that single cases could become a class action lawsuit or result in multidistrict litigation (MDL).
Manufacturing Defect — The manufacturer committed an error in the actual manufacturing of the product. This kind of defect is much more isolated, so it is usually limited to a single product within a specific batch of products.
Failure to Warn — The manufacturer failed to warn consumers about the possible dangerous effects of the product, which were not open and obvious. A manufacturer has an obligation to provide a warning about certain uses of a product that could endanger a person, including hazards that can seem self-explanatory.
Any kind of consumer product can be defective, but certain kinds of items are particularly susceptible to issues. Common subjects of product liability actions include, but are not limited to, motor vehicle parts, appliances, tires, car seats, children's toys, medical devices, pharmaceutical drugs, construction tools or equipment, and cosmetics.
Frequently Asked Questions (FAQs) About Defective Products
When a defective product causes an accident, your first step should be to seek medical attention. Do this even if you do not think you were hurt. It is important to be sure that you did not suffer an injury that involves delayed symptoms and to have a medical record created as soon as possible after an accident. Try to save whatever remains of a defective product after an accident, but store the product somewhere safe so it cannot harm another person. You should also try to keep any receipts or original packaging that the product came in. Take multiple photographs of everything involved in the scene of your accident, and also make sure that you know the names and phone numbers of any persons who witnessed the accident. Contact a lawyer before you speak to an insurance company.
Virginia Code § 8.01-243.A provides that a person has two years from the date of an accident to file a lawsuit for injuries caused by a defective product. The same statute of limitations also applies to wrongful death cases, but the cause of action in such cases is the date of a person's death instead of the date of the accident.
Most insurance companies in product liability cases prefer monetary settlements to trials because going to court can be very costly. A case that does go to trial may lead to a jury awarding a victim compensatory damages. Compensatory damages involve a combination of economic damages and noneconomic damages, with economic damages being tangible costs a person has incurred or will incur. Common economic damages include medical bills, lost income, and property damages. Noneconomic damages are less tangible types of harm, including pain and suffering, loss of consortium, psychological issues, and disfigurement. If it can be proven that a manufacturer acted with malice toward a consumer, so as to show a conscious disregard for the rights of the victim, punitive damages (also known as exemplary damages) may be awarded. Virginia Code § 8.01-38.1 limits (or "caps") punitive damages to $350,000.
Defective Product Statistics
The United States Consumer Product Safety Commission (CPSC) publishes numerous statistics relating to injuries and deaths from dangerous and defective consumer products. The agency states that not all injuries are necessarily caused by these products, only that the products were involved. The CPSC reports that among 240,000 children younger than 12 years of age treated for toy-related injuries in emergency departments in 2016, there were seven reports of toy-related deaths. There were 34 deaths associated with playground equipment investigated from 2009 to 2014, and the incidents included 19 hangings or other asphyxiations. There were also 62,300 emergency department-treated injuries associated with nursery products among children younger than 5 years of age in 2016. Between 2012 and 2014, 284 deaths were associated with nursery products among children younger than 5 years of age.
Moreover, an estimated 30,700 people were treated every year in emergency departments for product instability or tip-over injuries related to televisions, furniture, and appliances between 2014 and 2016. The total included 19,500 injuries associated with furniture, 10,100 injuries associated with televisions, and 1,100 injuries associated with appliances. There was also an average of 48 electrocution deaths associated with consumer products between 2010 and 2013.
Contact a Defective Products Attorney in Virginia
If you or a loved one have sustained injuries from a dangerous or defective product in Virginia, we at CHASENBOSCOLO are here to hold the responsible party accountable. With more than 30 years of experience helping people just like you in Virginia, we have the skills and resources you need on your side.
Worried about how you'll afford our services? Don't be. Our No Fee Guarantee means that you won't pay anything until we win or settle your case.
The attorneys at CHASENBOSCOLO are dedicated to helping you get justice. Our lawyers will review your case details free of charge when you call (703) 538-1138 or contact us online today to set up an initial consultation.