A spinal cord injury can involve damage to the spinal cord itself or possibly the cauda equina, a bundle of nerves at the end of the spinal canal. The spinal cord is the main pathway connecting the brain to a person's nervous system.
Because the spinal cord is responsible for relaying all information from the brain to the rest of the body, a spinal cord injury can have a profound impact on every aspect of a person's ability to function. The severity of a spinal cord injury will depend on the injury's completeness, but serious injuries can result in possible paralysis and require many victims to require a wheelchair or other assistance.
If you or your loved one suffered a spinal cord injury in an accident caused by another party's negligence, make sure that you are able to get all of the compensation you need and deserve. Insurance companies will be seeking to minimize whatever they pay you.
CHASENBOSCOLO knows how to deal with insurance companies and can work to ensure that you receive a fair and full settlement. Our Virginia spinal cord injury attorneys can provide a complete evaluation of your case as soon as you call (703) 538-1138 or contact us online to take advantage of a free consultation.
Do I Need A Spinal Cord Injury Lawyer?
Many victims believe that the severity of their spinal cord injuries will entitle them to have all of their medical bills and lost wages covered by the negligent party, but the insurance company for that negligent party will not automatically pay a person who has suffered a spinal cord injury. When you file a claim with an insurer, they will very likely assign a claims adjuster to your case.
The adjuster will conduct their own investigation, and they will usually reach out to speak with you as part of their investigation. When anybody from an insurance company contacts you and offers the opportunity to make a recorded statement, you should always refuse.
Agents for insurance companies have a goal of getting you to unknowingly admit to some kind of negligence so they can deny your claim or at least reduce their level of liability. In some cases, the insurer may quickly offer you a lump sum settlement to resolve your case, but the offer is almost certainly nowhere near what you are entitled to.
You will want an attorney because they can negotiate for a just settlement. The lawyer can handle all conversations with insurers on your behalf, so you do not have to worry about saying anything that potentially harms your case.
Why Choose CHASENBOSCOLO To Handle My Case?
When CHASENBOSCOLO was founded in 1986, the very first core value of our firm was to take care of the client. We have maintained that priority and grown to now be a team of 25 attorneys and over 90 professionals with over 100 years of combined legal experience.
Our staff is available 24 hours a day, seven days a week. You will always have your phone call answered, and we will make sure that you get answers to every question you might have.
Barry M. Chasen and Benjamin T. Boscolo each have more than 30 years of legal experience. Mr. Chasen and Mr. Boscolo both received an AV Preeminent rating from Martindale-Hubbell, denoting the highest level of professional excellence.
CHASENBOSCOLO also provides the No Fee Guarantee®, so you do not pay anything until you obtain a financial award. Our firm will work toward a settlement that covers all of your past, present, and future expenses, but we will not be afraid to file a lawsuit when it is necessary to receive the appropriate amount of compensation.
Types of Spinal Cord Injury Cases We Handle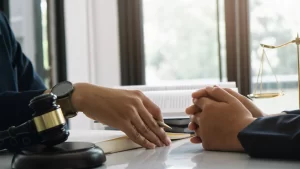 A spinal cord injury may involve a contusion or bruising of the spinal cord, but some cases involve nerve fibers being torn or severed. A compression injury occurs when pressure is placed on the spinal cord.
The spinal cord is protected by three layers of membranes called meninges that line the skull, vertebral canal, and the vertebrae. The vertebrae affected by the injury often determines the severity of an injury.
Humans have 33 vertebrae. Vertebrae are generally divided into five regions, but most severe spinal cord injuries involve damage to vertebrae in one of the three following regions:
Cervical Vertebrae (C1-C7) — An injury to the high-cervical nerves (C1-C4) in the neck are among the most serious kinds of spinal cord injuries, with victims possibly suffering impaired or reduced ability to speak, difficulty breathing and controlling bowel or bladder movements, and paralysis in the arms, hands, or legs. C5-C7 injuries could also affect a person's ability to control their arms and hands as well as bowel or bladder movements.
Thoracic Vertebrae (T1-T12) — An injury to one of the five vertebrae in the upper back (T1-T5) usually has more serious consequences than an injury to vertebrae in the middle of the back (T6-T12). T1-T5 injuries can require a wheelchair because the injuries affect the victim's legs and trunk (the central part of their body). With T6-T12 injuries, the trunk is also affected, but many victims can walk again with braces.
Lumbar Vertebrae (L1-L5) — An injury to the lumbar nerves in the lower back could lead to loss of bowel and bladder control. Victims will have their hip and legs affected, and wheelchairs can be required for some people while others can walk with braces.
The other two regions of the spinal cord are the sacral vertebrae (S1-S5) and the coccyx. S1-S5 vertebrae are found near a person's pelvis, and injuries to those vertebrae may cause loss of bowel and bladder control although victims are often able to walk again.
The coccyx is more often referred to simply as the tailbone. Coccyx injuries are possible and involve pain, but such injuries rarely have the types of consequences relating to the rest of the body that are common with other areas of the spinal cord.
A spinal cord injury has the potential to change every aspect of a person's life. In addition to newfound restrictions on employment, a spinal cord injury victim will also usually need to modify their home for medical equipment relating to their care.
Frequently Asked Questions about Spinal Cord Injuries
The phrase spinal shock refers to a loss of motor and sensory function or reflexes below the level of a spinal cord injury that usually occurs suddenly or soon after an accident. Spinal shock is not necessarily the same as the medical condition of shock, and reflexes may return during spinal shock. A person might not even realize they are in a state of spinal shock.
The bitter truth is that there is no single universal cure for all spinal cord injuries. Depending on the severity and location of an injury, some victims may have reasons to hold out hope for a possible recovery. It is not out of the question for an individual to walk again or regain normal function through rigorous rehabilitation. Numerous studies are still being conducted into spinal cord injuries, and there remains a reason for optimism that there will be continued growth in areas of treatment for spinal cord injuries.
A complete spinal cord injury involves a spinal cord being entirely severed and the victim losing all feeling and ability to control movement below the affected area. An incomplete spinal cord injury involves only a partial severance of the spinal cord, and a victim usually retains some function below the affected area. Brown-Sequard syndrome, central cord syndrome, and anterior cord syndrome are typical examples of incomplete spinal cord injuries. Complete spinal cord injuries include triplegia (paralysis of one arm and both legs), paraplegia (paralysis of the legs and the lower half of the body), tetraplegia or quadriplegia (paralysis of all limbs), monoplegia (paralysis of one arm or one leg), or hemiplegia (paralysis of one arm and one leg on the same side of the body).
Spinal Cord Injuries: How Frequently Do They Happen?
According to the National Spinal Cord Injury Statistical Center (NSCIC), the annual incidence of spinal cord injury is approximately 17,000 new spinal cord injury cases every year. About 282,000 persons are living with a spinal cord injury in the United States, but the range is as low as 247,000 persons and as high as 347,000 persons.
The NSCIC reported that the leading cause of spinal cord injuries was motor vehicle crashes with 38.3 percent of cases since 2015, and falls were the next most common cause with 31.6 percent. The estimated average yearly expenses for high tetraplegia victims (C1-C4) was $1,102,403 for the first year and $191,436 for each subsequent year, low tetraplegia victims incur expenses of $796,583 in the first year and $117,437 each subsequent year, and paraplegia victims have expenses of $537,271 in the first year and $71,172 each subsequent year.
The World Health Organization (WHO) reported that as many as 500,000 people around the world suffer a spinal cord injury and claims that people with a spinal cord injury are two to five times more likely to die prematurely than people without a spinal cord injury.
Contact a Spinal Cord Injury Attorney in Virginia
Did you or your loved one sustain a spinal cord injury in an accident caused by another party's negligence in Virginia? You could be entitled to compensation for all of your medical expenses, lost income, and other damages.
CHASENBOSCOLO has recovered hundreds of millions of dollars for thousands of clients. Call (703) 538-1138 or contact us online to schedule a free consultation.