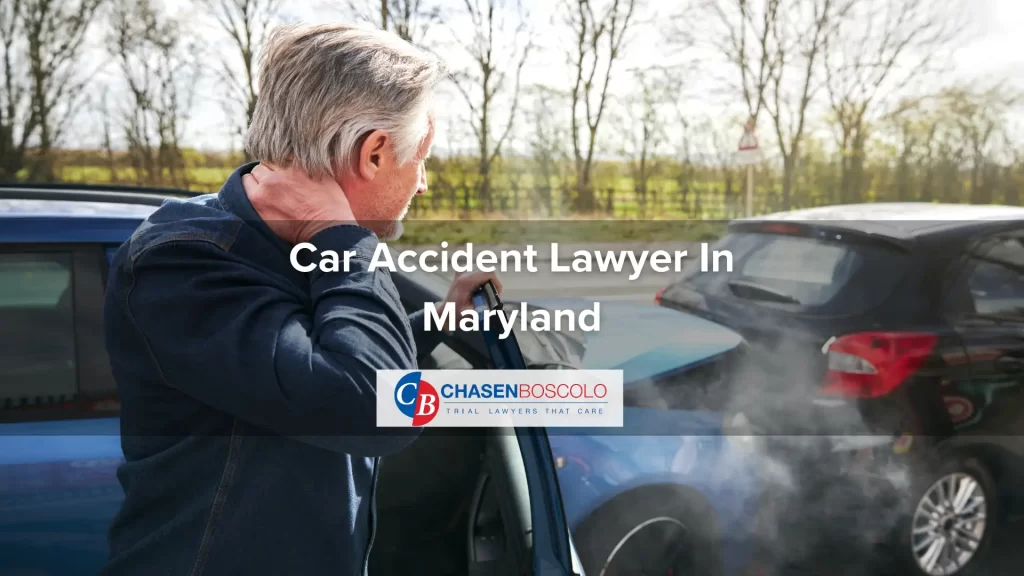 Did you suffer catastrophic injuries in a car accident? Did you lose a loved one in a tragic accident caused by the negligence of another person? If so, the Maryland car accident lawyers of CHASENBOSCOLO could help you get the justice and compensation that you and your family deserve.
For more than three decades, our team has fought tirelessly on behalf of accident victims. We have the extensive experience and resources needed to get results. When your health and future are on the line, turn to a team that has recovered hundreds of millions of dollars on behalf of its clients. Our team is ready to help you.
We know that accidents happen. According to United States Department of Transportation Federal Highway Administration statistics, Maryland had 4,142,997 licensed drivers in December 2015. There were about 1.976 million licensed motor vehicles in the state in 2016. With so many vehicles on the road, all it takes is one act of recklessness or carelessness on the part of a driver to cause a severe or fatal crash. When that happens, the negligent party should be held accountable for the harm they cause.
CHASENBOSCOLO will fight to make sure you get every last dollar that you are entitled to. You can have our attorneys discuss all of your legal options when you call (301) 220-0050 or contact us online to set up a free consultation.
Do I Need A Car Accident Lawyer?
The insurance companies will ultimately resolve many car crash claims for the motorists involved. All insurers share the same goal of paying as little to possible to resolve these claims, so never assume any insurance company is on your side—even your own.
In many cases, a representative from an insurance company such as a claims adjuster will contact a victim and ask them to provide a recorded statement. You should always refuse to do this as the goal of these conversations is usually to get you to admit to some form of negligence that ultimately prohibits you from recovering damages.
Insurers will occasionally offer some people lump sum settlements to resolve their cases. Agents will remind people that accepting these offers will allow them to keep more money for themselves, but many people do not realize until after the fact that the settlement will not be enough to account for any future expenses.
You want an attorney simply for having the best possible chance of recovering all of the compensation you will need for all of your past, present, and future needs. CHASENBOSCOLO will be committed to making sure that you receive a just settlement.
Why Choose CHASENBOSCOLO To Handle My Case?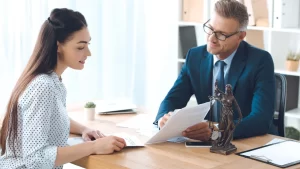 CHASENBOSCOLO has recovered hundreds of millions of dollars for thousands of clients. We have three Maryland offices in Greenbelt, Waldorf, and Hyattsville.
Barry M. Chasen has over 30 years of legal experience and has received an AV Preeminent rating from Martindale-Hubbell, a peer rating denoting the highest level of professional excellence. He is a member of the Maryland State Bar Association, American Association for Justice, and Maryland Association for Justice who is also a past chair of the Maryland State Bar Section on Negligence, Insurance, and Workers' Compensation.
Benjamin T. Boscolo has also received an AV Preeminent rating from Martindale-Hubbell. He too is a member of the American Association for Justice, Maryland Association for Justice, and the Maryland State Bar Section Council on Negligence, Insurance, and Workers' Compensation.
CHASENBOSCOLO provides the No Fee Guarantee®, so you do not have to worry about any legal expenses until you obtain a financial award. Our firm will negotiate for a fair and full settlement, and we will immediately file a lawsuit when an insurance company refuses to provide adequate compensation.
Types of Car Accident Cases We Handle
Not all car crashes cause injuries, but the collisions that do cause harm can involve significant long-term challenges for victims. Some people will require several weeks, months, or even years of rehabilitation and therapy.
On top of the tremendous medical needs, many injury victims cannot return to work. Some people may be permanently unable to regain any gainful employment.
Some of the different kinds of injuries our firm handles include, but are not limited to:
Fractures
Neck Injuries
Whiplash
Traumatic Brain Injuries (TBIs)
Lacerations
Internal Organ Damage
Head Injuries
Nerve Damage
Soft Tissue Injuries
Burn Injuries
Paralysis
Spinal Cord Injuries
The actual causes of crashes can be very involved in some cases and seemingly very obvious in others. Insurance companies will always seek ways to minimize their own liability.
Some of the most common causes of car accidents in Maryland include, but are not limited to:
Unsafe Lane Changes
Distracted Driving
Dangerous Roadway
Driving Under the Influence (DUI) of Alcohol or Drugs
Driver Fatigue
Tailgating
Inclement Weather
Failure to Yield
Improper Turns
Speeding
Reckless Driving
If a person dies in a car crash in Maryland, their family members can file a wrongful death claim against the negligent parties.
When Do You Need a Car Accident Lawyer?
Frequently Asked Questions (FAQs) About Car Accidents
If you've been hurt in a car accident, you likely have questions about your rights and legal options. Below are some frequently asked questions and their answers, and feel free to reach out to us directly at (301) 220-0050 with any questions about a specific accident or claim.
You should always make sure you receive medical attention after a car accident, even if you don't think you were hurt. Keep in mind that not all injuries involve immediate symptoms. If you wait too long to get medical care, an insurance company will likely question the severity of your injuries. When possible, get photographs of all of the vehicles, people, and other items of note at the scene of your crash. If any people saw the accident, get their names and phone numbers. Ask a friend, family member, or neighbor to do this for you if you cannot take these steps yourself.
Maryland Courts and Judicial Proceedings Code § 5–101 establishes that a civil action must be filed within three years from the date it accrues. The statute of limitations is also three years for wrongful death claims. Certain exceptions do exist to the statute of limitations, however. When a minor is injured in an automobile accident, they have three years from the date of they turn 18 years of age to file a lawsuit. An individual who is incompetent after an accident (such as in a coma) can have their limitations period tolled (delayed) until they are functional again.
No, you will not. This is the most important reason for you to contact a lawyer as soon as possible after an accident. Maryland is one of only five states in the country allows for a defense of pure contributory negligence, under which a person cannot recover any damages from another party when they contributed to their injuries in any way. This means that a person who is only 1 percent at fault for an accident will be prohibited from recovering from the party that was 99 percent responsible. Do not speak to anybody other than an attorney about your accident and be especially careful not to say anything on social media websites.
Insurance companies employ claims adjusters who may contact you and offer you a settlement amount for your injuries and any damages to your vehicle. These settlement offers are usually "low-ball" estimates and aren't enough to cover your medical bills, lost wages, pain and suffering or vehicle repair expenses. The insurance company profits when you sign away your rights to the compensation you deserve. Don't let an adjuster persuade you to sign anything without speaking to a lawyer first. A Maryland auto accident lawyer at CHASENBOSCOLO can fight for your rights to fair and just compensation.
Car Accident Statistics in Maryland
The Maryland Motor Vehicle Administration (MVA) reported that there were 114,848 total crashes in the state in 2017 that included:
517 fatal crashes
34,518 injury crashes
79,813 property damage crashes
The total was less than the 120,220 crashes in 2016 but more than the 107,789 crashes reported in 2015, the 97,951 crashes reported in 2014, and the 92,605 crashes reported in 2013.
The 557 fatalities and 51,182 people injured in 2017 were the highest totals of the five-year period dating back to 2013. The five-year averages were 466 fatal crashes, 31,897 injury crashes, 74,320 property damage crashes, 502 fatalities, and 46,762 people injured.
The top five counties with the most total crashes in 2017 were:
Baltimore County with 20,764
Baltimore City with 19,737
Prince George's County with 18,299
Montgomery County with 14,239
Anne Arundel with 10,447
The top five counties with the most fatal crashes in 2017 were:
Prince George's County with 92
Baltimore County with 65
Baltimore City with 43
Anne Arundel with 41
Montgomery County with 31.
The top five counties with the most injury crashes in 2017 were:
Baltimore City with 6,018
Prince George's County with 5,236
Baltimore County with 5,032
Montgomery County with 4,950
Anne Arundel with 3,372
When someone's negligence causes an injury accident, the victims have a right to hold the responsible party accountable for their actions. You could be owed compensation for your pain, suffering, lost wages, medical bills, and other damages. Turn to a legal team with the right experience and track record of winning results to handle your case.
Contact a Car Accident Attorney in Maryland
If you sustained severe injuries or your loved one was killed in a car crash in Maryland, you deserve answers and justice. We are here to deliver decisive results for you and your loved ones. Don't wait until it is too late to take action. Call us today.
CHASENBOSCOLO has been helping people injured in car accidents in Maryland since 1986. Call (301) 220-0050 or contact us online to receive a free consultation.