Mar 15, 2023 | CHASENBOSCOLO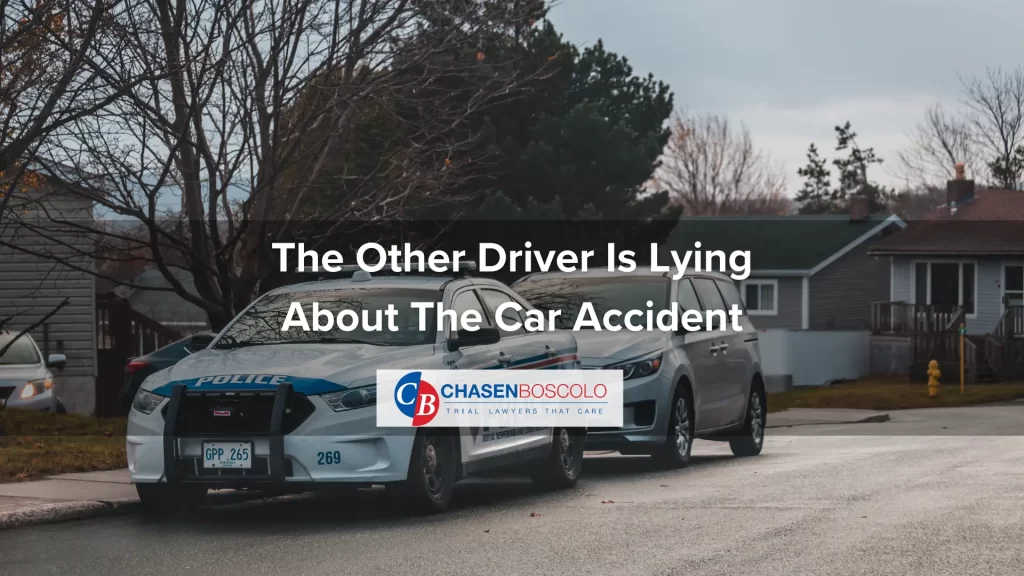 Who is at fault might be evident after a car accident. However, the other driver might try to avoid any blame. Drivers often lie to avoid financial responsibility after a crash. If truthful, they could face a lawsuit and have to pay for someone else's medical care and vehicle repairs. Other consequences include traffic citations, fines, and higher insurance rates.
Just because the at-fault motorist lies about the accident doesn't mean you should give up and accept the denied insurance claim. Their insurer wants to side with them to meet its goal of saving money. Denying your claim accomplishes that. Regardless of whether the other driver's statements are true, the insurer might consider them factual.
What to Do If Another Driver Lies After an Accident
Although a policyholder's statements are essential in investigating an injury claim, the insurance carrier needs additional evidence to determine liability. The adjuster will review documentation and speak with witnesses to decide whether to pay the victim. The other motorist's lies can affect the insurer's decisions, official police report, and other aspects of your case. You must take immediate action to prove your version of events is true by following these steps:
Hire a lawyer – An experienced car accident lawyer can help prove someone else is at fault for the car wreck. They can obtain evidence that disproves the at-fault driver's statements and relieves you of liability. Your lawyer might hire an accident reconstruction specialist to recreate the scene and show why the other motorist is responsible. They can also speak with medical experts to establish that your injuries are consistent with your collision type. Your attorney will also do everything they can to discover inconsistencies in the other driver's stories by establishing a history of dishonesty in their past.
Tell the same story – The investigating officer will likely want a statement from you and other parties involved in the accident. You must not provide too much detail. However, you should inform them of the other driver's actions if you believe they are at fault. If you must tell your story again, stick to the same information. Changing your story might indicate to the insurer that you lied initially. That can give them a valid reason to deny your injury claim or reduce the value of your settlement.
Obtain valuable evidence – You need evidence that the other motorist's conduct contributed to the collision. Gathering evidence at the accident scene is beneficial. Take pictures of nearby traffic signals, road debris, broken glass, skid marks, and vehicle damage. However, you should stay where you are if your injury is severe.
Talk to witnesses – Innocent bystanders might have seen what happened. Ask them what they recall and whether they noticed the other driver do something to cause the accident. Get their names and phone numbers if their version of events supports yours.
Can You Sue if The Other Driver Is Lying About a Car Accident?
Yes. If you believe the other motorist is at fault for the accident and lied about what happened, you could file a lawsuit against them. Your attorney can investigate and collect evidence to prove liability, such as:
Police report – Although the police report contains an officer's opinions, it could help your lawyer determine what contributed to the crash and whether the other driver should be liable.
Eyewitness statements – Your lawyer can track down witnesses and get their official statements. These witnesses might also testify at trial if you file a lawsuit.
Pictures – It's often tricky to dispute accident scene photos. Pictures might reveal the positions of each car after the impact. Seeing the other driver's front bumper smashed against the rear of your car is evidence that they were probably tailgating.
Surveillance – Securing video footage of the crash is also vital. It can show every moment leading up to the accident, including the at-fault party's actions. It might show them running a red light or changing lanes without using a turn signal.
Can You Sue Someone for Filing a False Police Report?
Yes. However, filing a lawsuit isn't similar to pressing charges. When you file a lawsuit, you seek monetary compensation for an injury. Although filing a false police report is a crime, the prosecutor will decide whether to pursue a criminal case.
Let CHASENBOSCOLO Help You in the Fight for Justice
If you sustained injuries in a car accident due to someone else's negligence, call CHASENBOSCOLO at (301) 220-0050 for a free consultation today. We know how to handle cases when a driver lies or misrepresents the facts. You can count on our experienced attorneys to pursue the maximum compensation you deserve.
Related Posts
How Your Driving Record May Affect Your Injury Case
How To Dispute Car Accident Fault