What Happens After Mediation Settlement?
Nov 15, 2022 | CHASENBOSCOLO
After mediation settlement, there are still a few steps to go through before receiving your money. First, the agreement reached will have to be drafted and signed. It can take anywhere from two weeks to a few months to receive your money, but mediation is still a much less time-consuming solution than going to trial.
What Is Mediation?
If you file a personal injury claim after being hurt in an accident, negotiations with the at-fault party's insurance provider will usually lead to a settlement. In some situations, however, negotiations might not produce an acceptable result. For example, suppose the insurance company insists on undervaluing your claim. In that case, your lawyer may believe you have a much stronger chance of reaching a favorable outcome if you take your claim to court.
Yet before you go to trial, you will often have an opportunity to attend a formal mediation session with the other side, which may result in a more favorable outcome than the initial negotiations did. Understanding what mediation is and what happens after mediation settlement will help you to set your expectations for the process.
Mediation is an informal set of discussions between the parties on either side of a dispute. A neutral legal professional, such as a retired judge, will serve as a mediator. In the case of a personal injury claim, the goal of mediation is to facilitate a conversation that encourages creative approaches to resolving the issues between the plaintiff and the defendant.
Do I Have to Attend Mediation?
In some jurisdictions, courts require the parties to engage in mediation before the case moves to trial. Otherwise, the decision to attend mediation is optional. Nevertheless, people often choose to try mediation because it offers many advantages, including:
A low-pressure environment for discussions – Going to court is inherently stressful. The courtroom is an adversarial environment, and the legal procedures you must follow maintain the court's formality. Mediation is a much more informal atmosphere in which the two sides can think creatively about how they might be able to find common ground.
Less expensive – While there is usually a fee for mediation, it is far less costly than going to trial.
Less time-consuming – When you attend a mediation session, it is possible to achieve a favorable outcome by the end of the day. Doing so will allow you to receive your settlement money much more quickly than if you were to go to trial.
Suggestions are non-binding – Both sides can feel free to accept or reject the solutions put forward by the mediator. If you or your attorney do not believe a suggestion is in your best interests, you do not have to agree.
What Happens at the End of a Successful Mediation?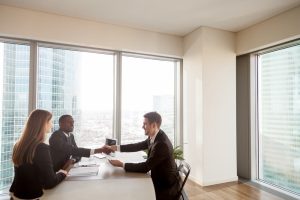 While the two sides might begin the day worlds apart, a mediation process can often allow them to recognize common ground within hours. They may achieve a solution by the end of the day or schedule an additional session to work through any remaining issues. Either way, if the two sides agree to a settlement by the time the process ends, you will not have to proceed to trial.
At the end of the mediation, you will draft and sign an agreement with the other side. Once the contract is signed, it becomes a legally binding contract. Both sides must comply with the agreement within the stated timeframe. If either side is in breach of contract, they can be taken to court.
The agreement will generally outline the amount of money you will receive for your claim. It will also include a release of liability to prevent you from raising further claims for the same incident after you have received your settlement. Once the releases are signed, and both sides have complied with the contract, the attorneys can send a dismissal order to the judge who ordered mediation, if applicable.
How Long After Mediation Will I Get My Settlement Money?
The time it will take to receive your settlement money depends on the timeframe stipulated in the signed agreement. In many cases, this can be around two to three weeks from the conclusion of your session and the signing of the settlement agreement.
Contact an Experienced Personal Injury Attorney
Nobody ever expects to have to deal with a personal injury claim. Nevertheless, it is a necessary step to take to ensure that you can cover your accident-related losses. If you want confidence that the process will move forward smoothly and effectively, it is important to have an excellent personal injury lawyer on your side.
The experienced personal injury attorneys of CHASENBOSCOLO have developed a reputation for excellence throughout our area – Washington D.C., Maryland, and Virginia. Our seasoned lawyers will help you navigate the complexities of your claim from start to finish.
Contact us online or call us today at (301) 220-0050 for a free case evaluation and find out what your legal options are.
Related articles: