What Happens After a Deposition in a Personal Injury Case?
Oct 08, 2022 | CHASENBOSCOLO
One of the most critical milestones in the pre-trial portion of a personal injury lawsuit is the deposition. Understanding what happens during and after a deposition can help you feel better prepared as your case progresses.
When you file a claim for compensation for an accident-related injury, the most likely outcome is that you will receive an out-of-court settlement and your case will never get to the lawsuit phase. However, if the insurance company disputes or rejects your claim, you and your lawyer may decide it is worth filing a lawsuit to recover compensation for your losses.
What Happens During a Deposition?
A deposition is an aspect of the pre-trial discovery phase of a lawsuit. In it, the other side's attorney will subject you to questions in a recorded interview. It will occur at a specified date, time, and venue (usually a lawyer's office or a court reporter's office), and you'll get notice of the details beforehand.
Because you will be under oath during the deposition, it is vital that you answer the questions truthfully and to the best of your knowledge. Most people find it helpful to have their personal injury attorney present during the deposition, so they can ensure that the defense counsel asks only relevant questions. Your attorney can also help prepare you in advance to ensure that you comply with the deposition requirements without admitting fault.
Read more: How Do You Know If Your Deposition Went Well?
What Can I Expect After the Deposition is Complete?
After the deposition, the first thing that will happen is that the court reporter who was present will create a transcript and provide it to the attorneys for both parties. This may take several weeks. However, once your lawyer has a copy of the transcript, they will review it to identify any mistakes or inconsistencies. At this point, your attorney may also be able to provide you with a more precise estimation of your case's outcome and how long it might take.
The opposing side may also request that you undergo an independent medical examination with a doctor selected by the insurer. Because they will use the examination to undermine your claims, your attorney will prepare you to give the doctor only the necessary and relevant information.
After this is complete, your attorney may continue negotiating with the insurance company to reach a settlement agreement.
How Long After a Deposition is Mediation?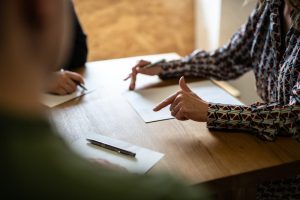 A mediation session may become necessary if the two sides have not reached an agreement after several rounds of negotiations. The session will be conducted by a mediator experienced in personal injury law, who will try to help you reach an agreement with the defendant. Both sides will have an opportunity to present evidence and argue the merits of their case. The mediator will then make suggestions about how the parties can resolve the matter.
Read more: Is Mediation Legally Binding?
How Long After a Deposition is Settlement?
As long as negotiations and mediation are ongoing after a deposition, a settlement can occur at any point. However, it is important to note that a good personal injury attorney will not accept a settlement that is less than what you deserve and what you require to cover your losses. If the other side is unwilling to meet you there, your attorney should be unafraid to take the matter to trial.
What Happens During a Personal Injury Trial?
If the negotiations and the mediation session are unsuccessful, the case may proceed to trial, where both sides can present evidence and arguments. Your lawyer will provide the court with evidence that demonstrates the other party's fault in the accident and proof of the losses you have suffered as a result of your injuries.
The judge or jury will then evaluate the evidence and arguments from both sides and determine whether the burden of proof has been met. If that is deemed to be the case, the verdict will outline the amount of money the defendant should pay you as compensation for your damages.
Contact an Experienced Personal Injury Attorney
If you were injured in an accident in Washington, D.C., Maryland, or Virginia, you deserve to have an excellent legal team on your side. The experienced personal injury lawyers at CHASENBOSCOLO are ready to fight for your best interests. We will do all we can to ensure that you receive the full and fair compensation you deserve.
Call us today at (301) 220-0050 or contact us online for a free case evaluation.