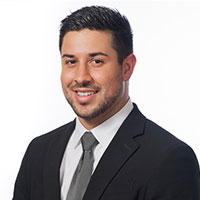 Robert A. Garza, EsquireAttorney
In 2009, Robert Garza received a B.A. in criminology and criminal justice from The University of Maryland before attending law school at The University of Baltimore School of Law. While there, he served as a judicial intern for the Hon. Cheryl A. McCally and was a member of the Criminal Law Association.
After receiving his J.D. in 2013, Robert volunteered for the Office of the Public Defender Maryland, investigating cases, conducting legal research and writing motions. At ChasenBoscolo, he specializes in workers' compensation cases.
In his spare time, he volunteers as an umpire for the Burtonsville Athletic Association.
Education
2009 – B.A., University of Maryland
2013 – J.D., University of Baltimore School of Law
Practice Admissions
Bar Associations
---