virginia personal injury attorney
by Alicia Littleton Kimi | April 23rd, 2018
Most people do not head out in the morning thinking that, by the time they get home, their lives could be drastically changed because of the negligence of another person. But it happens every day. Your day starts out normal enough: you are going to work, heading home or maybe you are going to the grocery store. You could be leaving work and slip and fall on what looks to be a clean floor because someone forgot to put up a caution sign. Maybe a drunk driver hits you on your way home from a hockey game. You could even be sitting at a red light during your morning commute when a car suddenly rams into your vehicle.
These scenarios have not only happened to our clients, but the last one is something I went through myself. I found the whole process to be a headache: dealing with the crash itself, calling the police, getting the insurance companies involved, and the list goes on. I can say that I was lucky. My car had some damage, but the other driver whose car rammed into mine likely totaled his vehicle. I thought I was okay—definitely shaken up, but I had no broken bones. However, I was on blood thinners at the time. And the next day, I developed a pretty severe headache. I did not want to go to the hospital; who would? But after some gentle pushing from my family, I went to the emergency room. The ER heard car crash, blood thinners and headache, and rushed me to get a CAT scan. Thankfully, I was in the clear. I didn't have any significant injuries from that crash, but it could have been a lot worse. I might not have known had I not taken care of myself by going to the ER. And while I am now a personal injury attorney, at the time of my crash, like many other victims, I didn't know the process. I was thankful I really didn't have to learn too much about it. Now, it makes me even more sympathetic towards our clients who are trying to navigate the system while in pain.
The More You Know, The Better
Most people who have to deal with the legal system are not happy to do so. Those who are injured and suing the responsible party are no different. I have never encountered a client who was happy to have to deal with their injuries or the process they had to endure to receive compensation for their injuries. Frustration with the process is a constant complaint and an understandable one. It sounds tedious, especially with everything you have going on: your life, the injuries, medical appointments, family obligations, work, school, whatever it might be, and now your lawyer is talking to you about some confusing and lengthy process. You are probably thinking, "I don't need to pay attention to this. This is what I am going to be paying my attorney to do." But the truth is, an attorney's job is to educate our clients and advocate for them. This includes explaining and walking clients through the claim and legal process from the get-go. This not only makes sure you understand the process, but once you know what to expect, it helps cut down on that frustration and the anxiety of the unknown.
So, what is the process when you've been hurt in a crash? Why is it so important to understand? Without understanding the process for a personal injury claim, there is no way to protect yourself and make sure you get justice.
The Crash
This is really the preliminary part of the process. But it's important that, at the scene of the crash, you collect important evidence that will help get the claims process moving. You should never leave the scene of the crash without getting the following information:
All other drivers' names, contact information (phone numbers and addresses) and insurance information
The names, badge numbers, and phone numbers for any police officers who respond to the scene, as well as any police report numbers
Any names and phone numbers for any witnesses or people who stop
The name of the road you're on and the closest intersection
Photographs of the cars involved and their damage, how the scene looked and the other drivers' license plates. If the other driver gives you bad insurance information, this can help track them down.
If you end up needing to be taken to the hospital by an ambulance from the scene of the crash and aren't able to collect this information, a police officer should contact you while you're in the ER or afterwards. When that happens, try to get as much of the above information from the officer. Don't just rely on him to collect it and get it from him later, as that can be very difficult to actually get, even when you're the victim!
For information about what information you should gather at the scene after you've slipped and fallen, check out my colleague Patrick Stewart's recent blog post.
The Injury
The actual "bodily injury" claims process starts once you know that you've been hurt as a result of a crash or slip and fall. After being injured, you have to file a claim with an insurance company. Simple, right? Sounds that way. You might think, "I'm injured. I did nothing wrong. The person who harmed me is insured, so their insurance will take care of me." But let me share what may come as a shock to some of you reading this: the insurance company does not care about you. They do not care who you are, what happened to you or really about anything but saving [their own] money. Shocking, right? The best way to protect yourself is to hire a lawyer to stand up to the insurance company for you.
Step 1: Treatment
The most important thing for you to do is get better! Go to the doctor. Use your health insurance if you have it. Talk to your doctor about your injuries. I do not mean just briefly describe them or tell them about how you are feeling at that particular moment. You to need tell your doctor about everything: any prior injuries, what happened to you in the crash, where the pain was and now is, how it hurts, how the injuries are impacting your life and everything that is bothering you. Always tell every doctor you see about your injuries, what happened to you, how you are doing and how it is impacting your life at EVERY appointment.
This next part is equally as important as talking to your doctor— you need to listen to your doctor and do what your doctor says! I cannot stress this enough. You cannot get better if you do not make taking care of yourself a priority. Easier said than done, but it is truly the most important part of the process. Before you move on to the next step in the process, you should be finished with any treatment (if possible). This means that you either have fully recovered from your injuries (in which case, hurray!) or you have healed as much as possible under the circumstances. This second part is called "maximum medical improvement."
The reason completing treatment and reaching maximum medical improvement is so important before moving on to the next step is because with personal injury lawsuits there can be only one recovery. Once you have agreed to an amount to settle your claim, there is no opportunity go back and ask the insurance company for more if you are still treating or decide to go back for more medical treatment in the future.
Step 2: The Demand
Once you have finished treatment, the second step is making a settlement demand on the responsible insurance company. This involves collecting all of your medical records and bills related to your injuries, any police reports or incident reports that were made for the incident causing your injuries and making an initial request for an amount of money (the actual demand) to settle your claim. Once the insurance company receives your demand, they will review it and respond.
There are two options that the insurance company can respond with. One such response is that the insurance company may deny liability, which means they are not going to offer anything, and it is time to move on to the next step.
Alternatively, the other response you may receive from the insurance company is an offer to settle at an amount less (and likely, significantly below) your demand. You then can respond with a counter-demand, beginning negotiations with them. There may come a point at which it becomes clear the insurance company is not going to offer what you think your case is worth. If that happens, it is time to move to the next step.
It's important to note that it may be recommended to skip step 2 (meaning going right to Step 3) in certain circumstances. This is something your attorney should discuss with you.
Step 3: Filing a Lawsuit
In Virginia, personal injury claims have a two-year statute of limitations. This means that, if your claim has not been resolved (or settled) with the insurance company within two years from the date of the injury (meaning the date of your fall or the crash), you MUST file a lawsuit before that two-year time frame ends in order to protect your claim. If the statute has run, and you have not filed a lawsuit, you have no legal recourse.
Once a lawsuit is filed, a trial must be imminent, right? Not so fast. The legal system, unfortunately, does not work as fast as you would think. There are several steps in the process before you get to trial, and in all likelihood, it will be at least 12-18 months before you get to a trial. Obtaining a trial date really depends on the individual court, as well as the schedules of the court, the attorneys and you.
Things in your lawsuit will not start moving until you have effected service on the Defendant, which means that someone has to physically deliver the lawsuit to them in some way. Think of it as tagging the Defendant by physically touching them with the actual lawsuit papers. Once that has happened, the Defendant has to file a response, which typically takes the form of what is called an Answer. At this point, the case moves to the next step.
Step 4: Discovery
The next step in the process is discovery. Each side gets to search for the truth, which is the purpose of a trial. There are two forms of discovery you will generally have to deal with in this process, although there are many other pieces that your attorney will be working on. Remember that each case is different, so in your case, there may be additional things you'll be personally involved in.
Typically, the first form of discovery you will encounter is written discovery. Written discovery can consist of interrogatories, requests for production of documents and requests for admissions. You have 21 days after being served these documents to state your objections and answer these under the Rules of the Supreme Court of Virginia.
The second form of discovery you will encounter is called a deposition. A lot of people wonder if a deposition is in court or if a judge will be present, but this is not the case. A deposition is also set following the Rules of the Supreme Court of Virginia. It is a chance for the Defendant's attorney to meet you in person and ask you questions under oath, while a transcript of the interaction is created by a court reporter. This will happen in someone's office: the defense attorney's, your attorney's or a neutral meeting space.
The discovery rules are very broad, so it is important to be aware that this means the Defendant's attorney gets to ask questions during discovery that you might not think are relevant to your case. This can be upsetting and hard for some people to understand, but that is why it is so important to be aware of what the discovery process entails. A broad discovery process allows for the truth to be uncovered, so be prepared for questions which may seem unrelated to the incident which caused your injury.
Step 5: Medical Examinations
So, the next step must be a trial, right? Well, that is not exactly right. There are several things that can occur before trial, including the insurance company extending a new offer and trying to settle your case before trial. The Defendant's attorney may request that you undergo an "independent" medical examination (in Virginia, this is also known as a Rule 4:10 Examination). This means that they get to choose a doctor for you to go see to evaluate you and your injuries. These doctors are paid by the insurance company and working to help their case, not yours. Despite this, you must tell this doctor about what happened to you, your injuries and how they impact you. Just remember that they are not your doctor and are certainly not treating you.
Step 6: The Trial
Your trial date has finally arrived! This is your day in court, where you get to confront and hold the Defendant accountable for their actions. Not only have you gone through treatment and tried to move on with your life during this whole process, you have also endured over a year (if not years) of the legal process leading up to this moment.
Before the jury is even seated, there may be some "preliminary" motions related to the trial (before this step, there may have been different types of motions heard by the court that, if you have an attorney, they argued, but you did not have to attend). Then the jury is selected in a process that takes time. This jury selection process is called "voir dire." Finally, your trial will actually begin.
The trial itself is an ordeal. You will likely have to testify on the stand, and the Defense Attorney gets to question you again (although its not nearly as invasive as the deposition). Our attorney will likely have witnesses come talk to the jury about how your injury and the Defendant's conduct have impacted you. There may also be an expert witness to talk about your medical treatment and potentially additional experts depending on the facts of your case. Additionally, the Defendant's attorney will be attacking your case and claims. They will have their own witnesses and experts testifying. This is the hardest part for a client to listen to, especially since you know you're telling the truth, have been honest and aren't the one responsible for what happened to you!
Finally, the trial will come to a conclusion, and it will go to the jury for them to deliver a verdict. The verdict is a ruling deciding who is responsible and who should pay what amount of money, or damages. The jury, made up of everyday Virginians who have been listening to your case, get to go back, deliberate and decide your fate. When they have reached a verdict, you will go back into the courtroom, and the jury will let you know if they find the Defendant liable and if so, what amount of damages they award you.
At the end of your trial, no matter the outcome, you can be sure that you have stood up for yourself by asking a jury of your peers to hold the Defendant liable for their actions.
Does this mean you've reached the end? Hopefully, yes, this is the end, and I sincerely hope that you never have to endure this process again. It is possible that, if you win, the insurance company may have their attorneys appeal. But that is another process I will not go into here. In Virginia, a party has 30 days to appeal a case heard in a circuit court; they only have 10 days to file an appeal in a general district court case. If there's no appeal, then yes, the process is finally over.
Keep in Mind…
While this goes over the basics of the personal injury process, every case is different. It is important to know that this does not go over every scenario (nor would you want to read it if it did). It's a long process, but the reward of justice is worth it for many. I hope you can also see why it's incredibly helpful to have an experienced, knowledgeable trial attorney to help you, fight for you and guide you through this process. Since this post is only an overview, if you are dealing with the claims process and have questions, please make sure you talk to your attorney about them. If you don't have an attorney and, after reading this, think you need to talk to one, you should start looking for one as soon as possible to make sure you're protecting yourself and your rights.
by Barry Chasen | January 9th, 2018
To me, the underdog is characterized by a lifelong fight. Things seem bleak, but the underdog fights to overcome. He fights and he struggles. He keeps his head down and works. Every once in a while, pop culture reminds us of how great the underdog story is: a JFK is elected or an Obama inspires us all. The Orioles beat the Yankees. But then, almost always on cue, the underdog is forced to endure more struggle. The underdog sees his fight stopped and his dream deterred.
However, what makes the underdog special is how he responds to struggle. The underdog responds to insurmountable odds by gritting his teeth and pushing forward. The underdog does not stop trying. I am intimately familiar with the underdog's story, and it's why I do what I do. Why? Because I am one.
I started ChasenBoscolo on March 5, 1986, to be a law firm for the underdog, by the underdog. Back then, it was just Law Offices of Barry M. Chasen, and it was just my secretary and me. My oldest son had just been born. He was two months old when I started the firm. My friends told me the timing seemed a little off, but when you're driven by a passion and you've got the underdog's fight, timing doesn't matter.
Five years before going out on my own, when I got my first job as a lawyer, it was the first time that I had ever set foot in a law firm. I was 33 years old. I was the 19th lawyer in a firm that represented injured workers in workers' compensation claims and plaintiffs in personal injury cases in Maryland, DC and Virginia. However, over the five years that I worked for another firm, I learned a sad truth: lawyers in the industry made decisions and gave counsel to their clients that were in the firm's best interest rather than the client's. The goal was to increase the fee that the firm made. That felt wrong to me. Frankly, that is wrong.
So I left and started my own firm, the firm that today is called ChasenBoscolo. I did it, no matter how odd the timing, because I was sure that I could represent my clients and do a better job than the old firm. Of the cases that I wanted to take with me, 91% of the clients elected to stay with me. They wanted me to fight for them. I was committed to working in their best interest. I was committed to a philosophy then that still guides our firm today: if you take care of the clients, the money will take care of itself.
But all of this started long before I started fighting independently for my clients. Much earlier than my career as a lawyer, I had to fight for myself. Because we don't have all day, and because in the interest of your time, I've edited my first draft of this post down from nearly 5,000 words. I'll simply share three short segments of my own "underdogging" so that you can see why the fight we take on at ChasenBoscolo really hits home for me.
---
1.
I'm ten years old. I'm poor—well, my family is poor. My father, a taxi driver with an eighth-grade education, is working through the night. Last week he was robbed at gunpoint, so we don't have any money. This week, we'll be lucky if he brings home a hundred dollars. Me and a classmate both rip our jeans sliding into base at recess. He returns to school the next day with a new pair. I return with a patch on my ass. I realize I'm poor when my friends go to summer camp, to swimming pools and to amusement parks. I don't do any of that. I'm lucky if my father drives us to the ocean for a day trip in his cab. Despite our poverty, my parents constantly reinforce that even though we have no money, I will get a college education. They ensure me that we will figure it out. At ten, that doesn't mean much to me, but I feel supported.
As I get older, it means the world. I'm confident in myself because of their support. Then my father dies from a fatal heart attack on the street. He's 51 years old. Things get worse. My mother cannot not maintain the mortgage payments on our house. It's sold at auction and then rented back to us. Our phone service is shut off; our lights don't turn on. I don't know where our next meal is coming from.
I'm an underdog though. I'm a fighter. I don't give up. Although I want to go to college, I work instead. I'm hired by the Social Security Administration as a GS-2 file clerk making $3,680 a year. I get promoted multiple times over a few years. I end up being promoted to the level of a computer programmer. I even start taking college courses at night and finish enough credits to be about a quarter of the way done. The light inside me will not flicker out.
---
2.
I'm drafted into the army. The 1960s are a time of unrest. College students, African-Americans and others protest against the actions of our government. We are engaged in an unpopular war and the rights of African-Americans are being infringed from equal accommodations to voting rights to economic equality. The anti-war protests become increasingly violent with flag burnings, bombings, rock throwing. Groups like the Weather Underground, Students for a Democratic Society, The Black Panthers, The Symbionese Liberation Army and The Youth International Party are all active in the '60s. In the Civil Rights Movement, there is a mix of violent and non-violent protests. They are fighting for justice, equality and opposing a war that is remote to the interests of the United States and is taking place half a world away.
I am anti-war. I don't consider moving to Canada, but I don't understand what we're doing in Vietnam. I keep my head down and I push myself during our basic training. I have no other choice but to fight, to do my best. I'm offered an opportunity to train to become an officer, and I take it. I understand that I may be safer as an officer than as an artillery man. Things are looking up. But of course, as always, the underdog is faced with challenges no matter how good things seem to get.
I train to be an officer, and this is how it goes: after a hard day of training, our commanders show up at our barracks and tell us to put on our full-pack uniforms. They then take us for a long run which culminates with us crawling through a muddy stream. We're exhausted and filthy when we get back to our barracks after 11:00 p.m. The training commanders then tell us that we have an inspection at 5:00 a.m. After we're dismissed and go inside, we discover that our bunks have been trashed and our bookcases overturned. Our foot lockers and lockers have been turned upside down. We have six hours to get everything in order, and then we'll do it all again the next day. That seems bad to me until I get to Vietnam.
I land in Vietnam and spend a few months doing basic intelligence reporting, but then everything changes. I'm walking back to my office with my commanding officer after a meeting and suddenly a succession of rocket blasts come closer and closer. The blasts do not stop. We start to run. My ears are ringing now but it's my heartbeat that I hear. Me and my commanding officer slide into a bunker, a hollowed-out mound of wet sand bags. We look at each other but neither of us say a thing. Our faces say enough: fear. I hear my heart beat. I hear the blasts, still louder. And then finally, just before I'm sure the next one will land on our bunker, they stop. I sit there for a long time and consider how lucky I am. Then I think about how unlucky I am. Then again—lucky.
Sometimes, for some people, the blasts don't stop before the bunker. For me they do, and I get to come home after another year. Within 30 minutes of landing at Travis Air Force Base in the Bay area, I am called a "baby killer" by protesters outside the gates. I cannot wear my uniform off base without being subjected to a constant barrage of verbal abuse. Whenever I appear in public in uniform, I am always insulted and attacked.
---
3.
It's 2018 and I've survived Vietnam. I've finished night school at the University of Maryland University College. I've finished law school at night too: the University of Baltimore. I'm a lawyer. I've found my calling, and I've made a career out of it. I've realized that my old employers had the wrong attitude. They didn't know what it meant to be an underdog. When I leave that firm, I take almost all of my clients with me. Since then, I've helped thousands of other clients. I've won countless cases. I'm proud of myself. I've grown my firm.
I've married the love of my life, and I have three wonderful sons who are grown themselves. They didn't have to go to night school. I've provided for them in a way that they're not the same underdog I was. But they still are underdogs in some sense. We all are in different ways.
It's 2018, and the firm is still growing. We're successful; we have commercials. We're hiring lawyers and winning cases. We're delivering justice to underdogs. I'm checking every box by the measure of conventional success. But things are not easy. We haven't cracked a code where winning cases is easy. Let me explain why: being an underdog means that you're fighting a beast that's bigger than you.
It's 2018, and judges have been "tort reformed." They default to side on the behalf of the insurance companies—the behemoth conglomerates making more than a billion dollars a year. Case decision makers—commissioners—suffer from "compassion fatigue." The law is not applied fairly and impartially and the law is rarely construed in favor of the injured worker. Some of this is the result of politics. Some of it has occurred because of tort reform propaganda and lies.
It's 2018, and the deck is still stacked against the underdog. On one side, you have the little guy represented by a firm not much larger than a football team. On the other side, you have big corporations or insurance companies with virtually unlimited resources. They will always present the best evidence that money can buy. These companies on the other side make more than $250 million per quarter. In three months, they make more money to use at their disposal than we can ever dream of.
---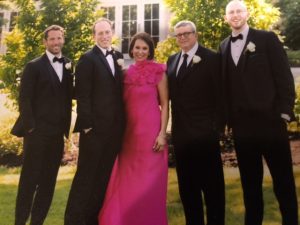 It's 2018, and I continue to fight. I continue to fight because it's what I know how to do. I know how to push on, hungry and in the dark: my father has died. I know how to push on, heartbeat in my throat: the blasts get closer and closer and my commanding officer and I believe that we're already dead. And I know how to push on when I walk into the courtroom and I see both representatives of a massive insurance company who have lobbied politicians in D.C. to pass legislation that helps them win cases. I see my client who, just like me, is an underdog.
Just like me—just like all of us—my clients are pushing forward to make a better life for themselves and their families. Then they are injured in an act of negligence. When that happens, they deserve representation. They deserve someone who will show up ready to fight, someone who won't back down from a company with deep pockets who threatens to stand in the way of justice—someone who's seen stuff a lot tougher than the representation and evidence that money can buy.