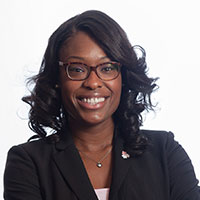 Shakétta A. Denson, EsquireAttorney
In 2010, Shakétta received her J.D. from The University of Baltimore School of Law, focusing on litigation and advocacy. She joined ChasenBoscolo in 2015, where she specializes in negligence-based litigation.
Along with her work at ChasenBoscolo, Shakétta devotes time to the ProBono Resource Center and Maryland Volunteer Lawyers Service. She is also co-chair for the Public Service Committee of the Young Lawyers of the Maryland Bar Association and a committee member for Public Awareness for the Maryland Bar Association.
Education
2003 – B.A., Stevenson University
2010 – J.D., University of Baltimore School of Law
Practice Admissions
Bar Associations
---