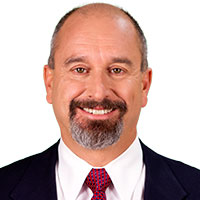 Benjamin T. Boscolo, EsquireShareholder

When Ben was 15 years old, he knew he wanted to be a trial lawyer. To achieve this goal, he worked two jobs during the summer to help pay his way through college. He worked as a laborer for a construction company during the day and as a nurse's aide in the evenings. Working as a nurse's aide in state-run retirement homes taught Ben that helping people made him feel better about himself. During that time, he realized that being a trial lawyer would give him the chance to help people every day.

"

We focus on taking care of the clients and not worrying about attorney fees. It's about fighting for what's right for our clients."
After completing college and law school, Ben realized his dream and became a trial lawyer. His career has been committed to using and, when necessary, fighting to change the legal system to protect injured workers. Ben has tried hundreds of jury trials in state and federal courts in Maryland and Washington, D.C. He has argued many cases in the highest courts of Washington, D.C., and Maryland that have made and changed the law. His client-focused, competitive drive makes him a successful litigator and advocate for injured workers.
As a result of his desire to be the best voice possible for working people, Ben was honored to be named to the National Football League Players Association's Workers' Compensation Panel. Since 2000, Ben has added members of the Redskins, Ravens, D.C. United, Capitals, Nationals, Orioles, Mystics and many minor league franchises to the group of workers whose rights he is privileged to protect. This work is high-profile and sounds glamorous. However, Ben treats professional athletes the exact same way as any other worker who is injured on the job. Whether his clients are professional athletes or working in concessions at the stadium, Ben represents each of them with passion and is determined to get them the benefits to which they are entitled. Ben shares this passion with each Washington, D.C., Virginia and Maryland personal injury lawyer of ChasenBoscolo.
On March 10, 2012, Ben was inducted into the College of Workers' Compensation Lawyers (CWCL) at its annual meeting in San Antonio, Texas. The CWCL was established to honor attorneys who have distinguished themselves in the field of workers' compensation, and induction is based on traits such as character, integrity, professional expertise and leadership.
Benjamin Boscolo: My name is Benjamin Boscolo. I'm one of the owners. I manage the firm. Virtually every client I'm ever lucky enough to meet, I tell them that they should expect three things from me. They should expect me to tell the truth. And the only promise that I will ever make to a client is that I will be truthful with them. The second thing you should expect from me is that I know what I'm doing. You know, for almost 30 years now, we have been around and we only represent injured folks. The third thing is that no two cases are alike and they are going to go through things that over the last 30+ years, we as a firm have hundreds of years of experience, if you add up all the lawyers, we've been through it with other clients before and they are going to be able to draw on our experience for guidance. If I do the things that I told them they should expect from me, I want them to become a salesman for the firm. I want them to come back if they need me; I hope they don't. But if they have a friend or a family member who needs an injury lawyer, I want to be the family lawyer. I want to earn the right to be a family lawyer. My first priority is to try to find out what they want and to see if I can accomplish that goal. I think that if everyone who works here figures out what their clients want and tries to accomplish that goal, then we have a law firm that cares.
Ben is a family man. When he is not fighting for the rights of injured workers, he spends as much time as possible with his wife and children. The family loves traveling to visit their grandparents.
Whether spending time with his family or trying to maintain the family business feel of the firm as it grows, Ben knows that genuinely caring about people is its own reward.
Ask Ben:
Q: How much is my case worth?
A: There's really no way to tell up front because each case is truly unique. We need to see how you recover from your injuries before we can evaluate exactly how much your case is worth. That's why it's so important for you to see your doctor immediately. He/she will assess your condition and help you get better as soon as possible while giving us an accurate measure of your case.
Education
1983 – B.A., Lafayette College
1986 – J.D., American University, Dean's Award for Professional Responsibility
Practice Admissions
1987 – Maryland
1988 – Washington, D.C.
Author
"Professional Athletes and the Law of Workers' Compensation: Rights and Remedies", treatise on the Law of Professional and Amateur Sports—West
Honors
AV® Preeminent™ Peer Review Rated, Martindale-Hubbell®
Who's Who Among American Law Professionals, 2010-2011
Litigation Counsel of America, Fellow, 2007
Maryland Super Lawyers®, 2006-2013
Washington, D.C. Super Lawyers®, 2006-2013
Maryland Bar Foundation, Fellow, 2004
Panel Member of the Year, Professional Hockey Players' Association, 2003
Maryland State Bar Association's Section Council on Negligence, Insurance, and Workers' Compensation, past chair
Maryland Workers' Compensation Educational Association, director
The National Trial Lawyers Top 100 Trial Lawyers, 2013
Designated Panel Attorney for
Professional Hockey Players' Association
Major League Soccer Players Union
Women's National Basketball Players Association
National Hockey League Players' Association
Lecturer/Author on Workers' Compensation Issues for
Maryland Institute for Continuing Professional Education for Lawyers, Inc.
Professional Associations and Memberships
District of Columbia Association for Justice
Maryland State Bar, Section Council on Negligence, Insurance, and Workers' Compensation
Washington, D.C., Office of Workers' Compensation Task Force
---